It's been a week since we first set foot on Svalbard, but the endless daylight and constant impressions make it seem like longer. The exhaustion of the crossing from Tromsø feels like a distant blip now, so sweet has the reward been to finally arrive in this archipelago.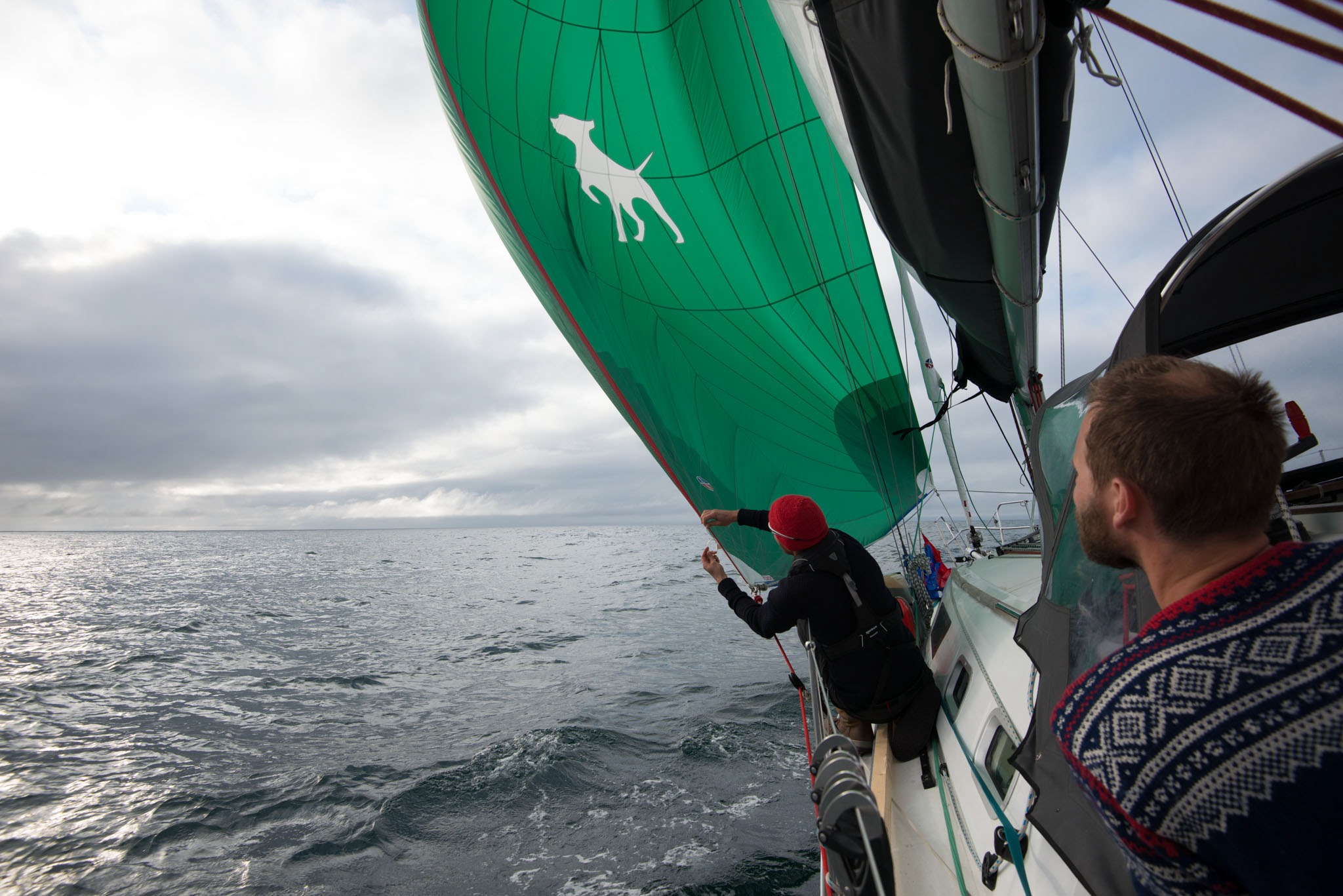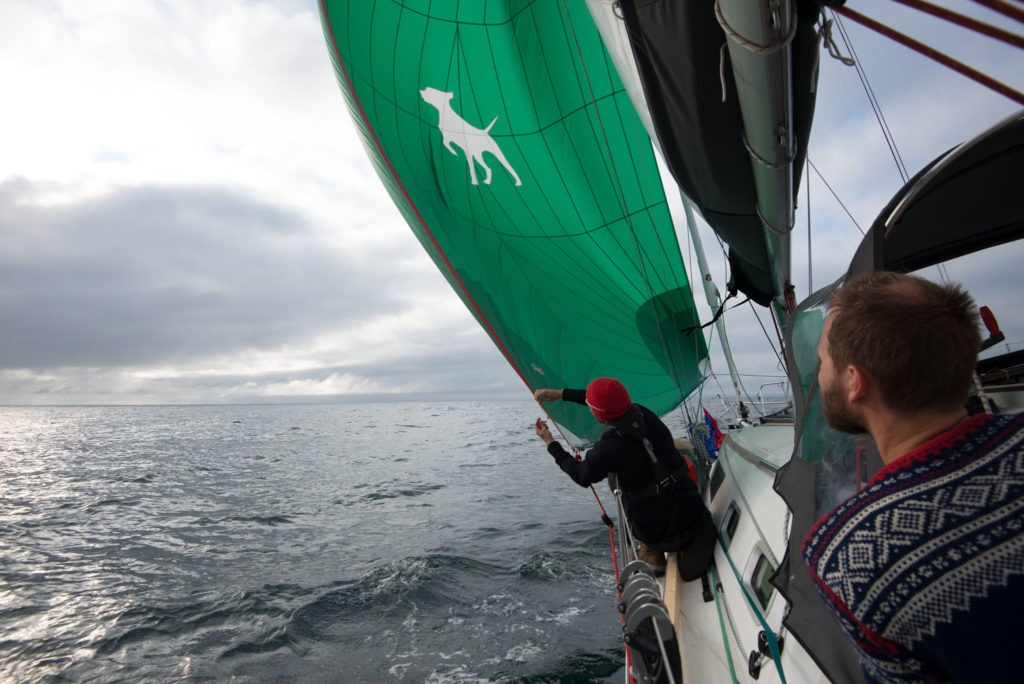 The crossing to Svalbard, with the gennaker being put to use while the wind and weather was still somewhat pleasant. By Daniel Hug 
After nearly four days of constant motion and keeling, the slow engine cruise into Hornsund (the southwesternmost fjord on the island of Spitsbergen) last Sunday was relief and ecstasy all in one. We made it! We could finally stop moving! But before we set foot on land, Jon and Andreas needed to brief us on a new threat.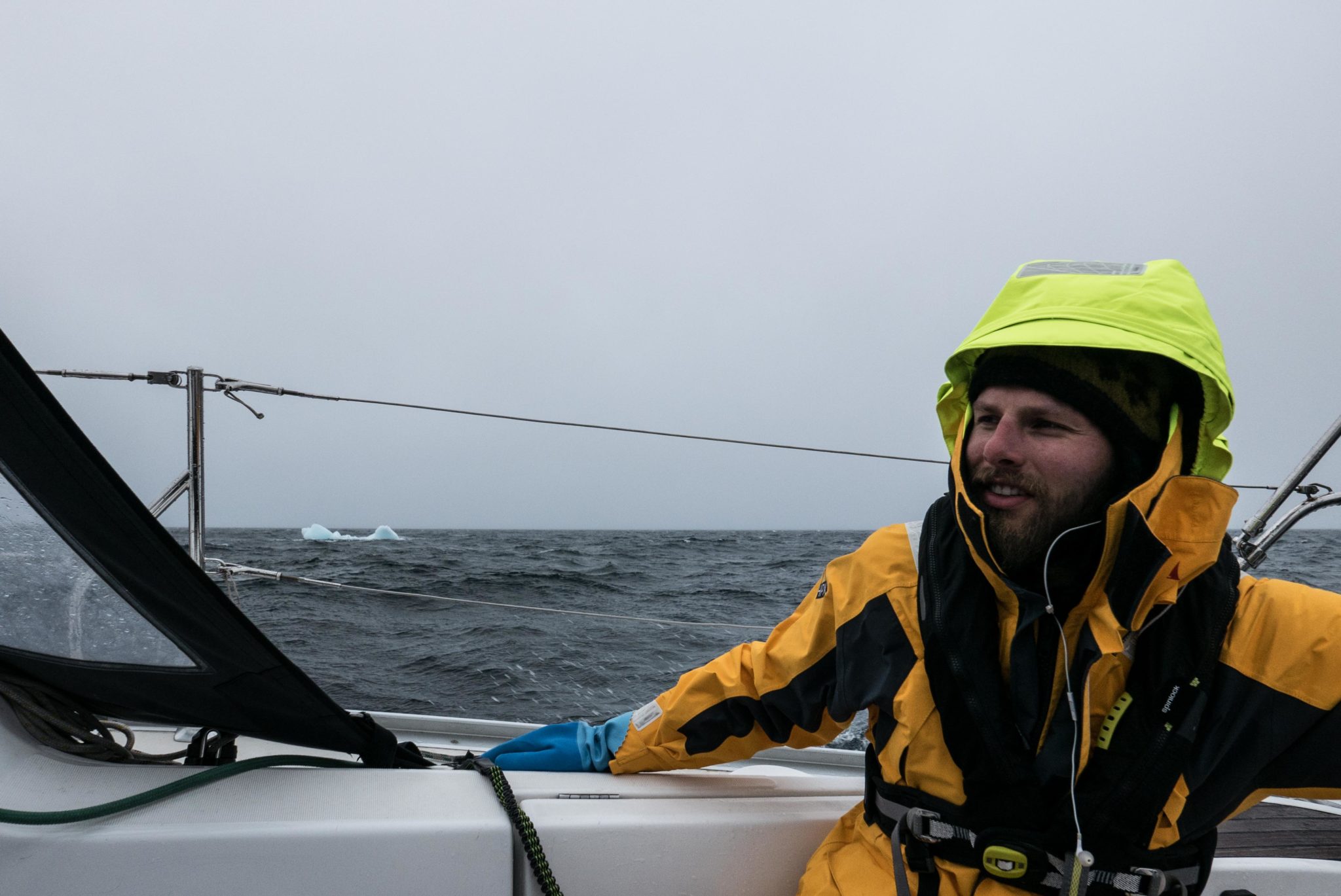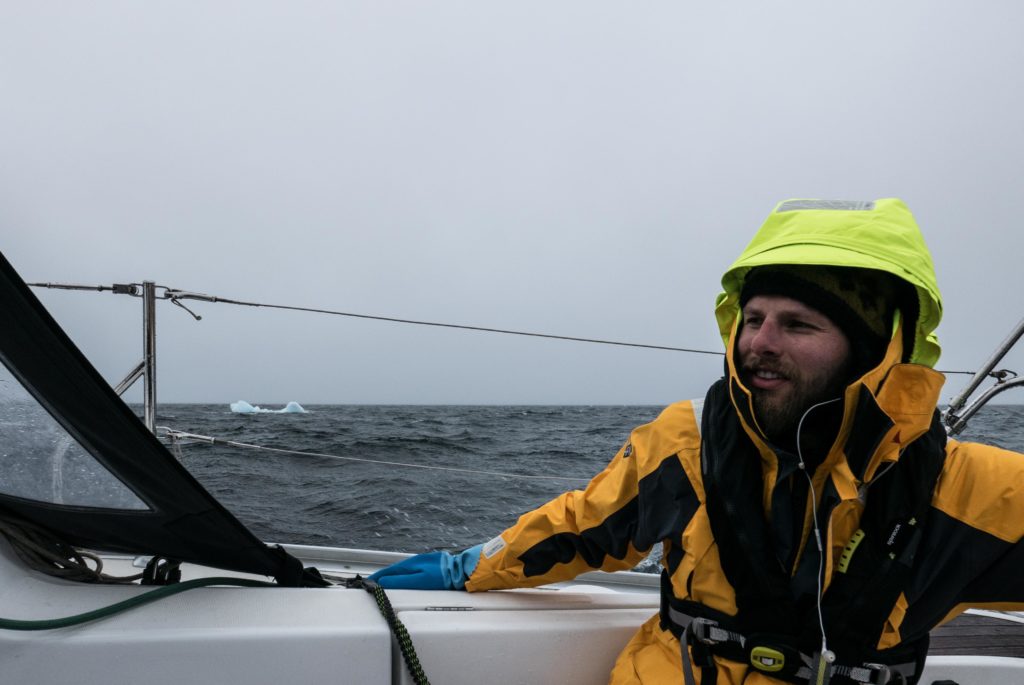 A few hours later, conditions had turned less pleasant as we approach the Southern Cape of Svalbard. By Andreas. 
More than 3,000 polar bears live on Svalbard. And Longyearbyen, the municipal capital, is the only place here where you can safely walk around without a weapon (although the woman at the tourist office laughed at me when I asked if there are really helicopters patrolling the skies over town for bears, as I'd been told). Elsewhere in the archipelago it's a law that you must have a weapon and know how to use it in the event you need to defend yourself. Killing the bear is a last resort, and would be a tragedy all around – the aim is first and foremost to scare it off with a warning shot from the flare gun or rifle. So I paid close attention when Jon and Andreas went through how to load and fire the flare guns and deploy the hand-thrown flash-bangs that will hopefully have the power to deter (or at least slow) a curious polar bear's approach. The idea of all of this, of course, freaks the hell out of me.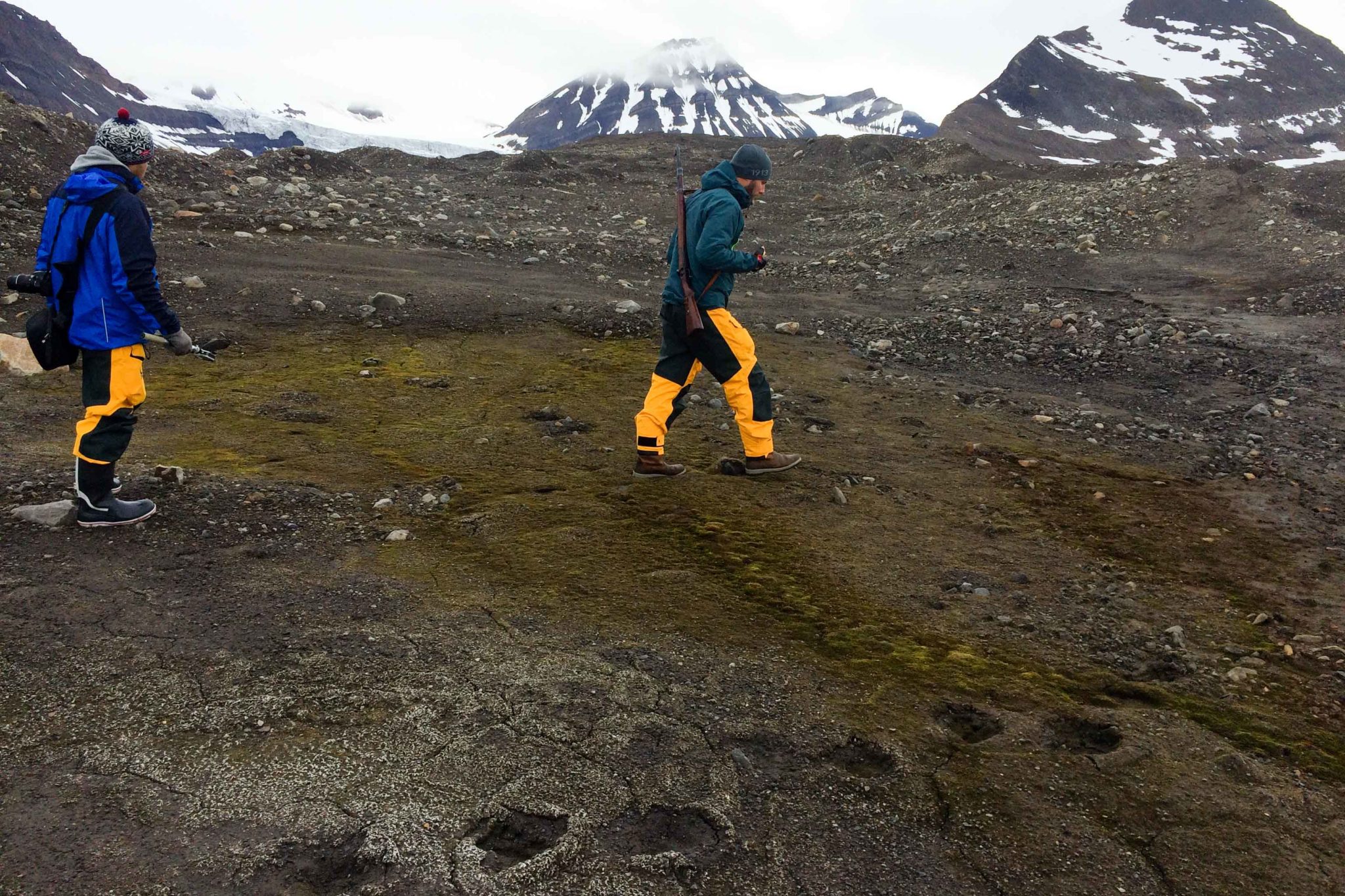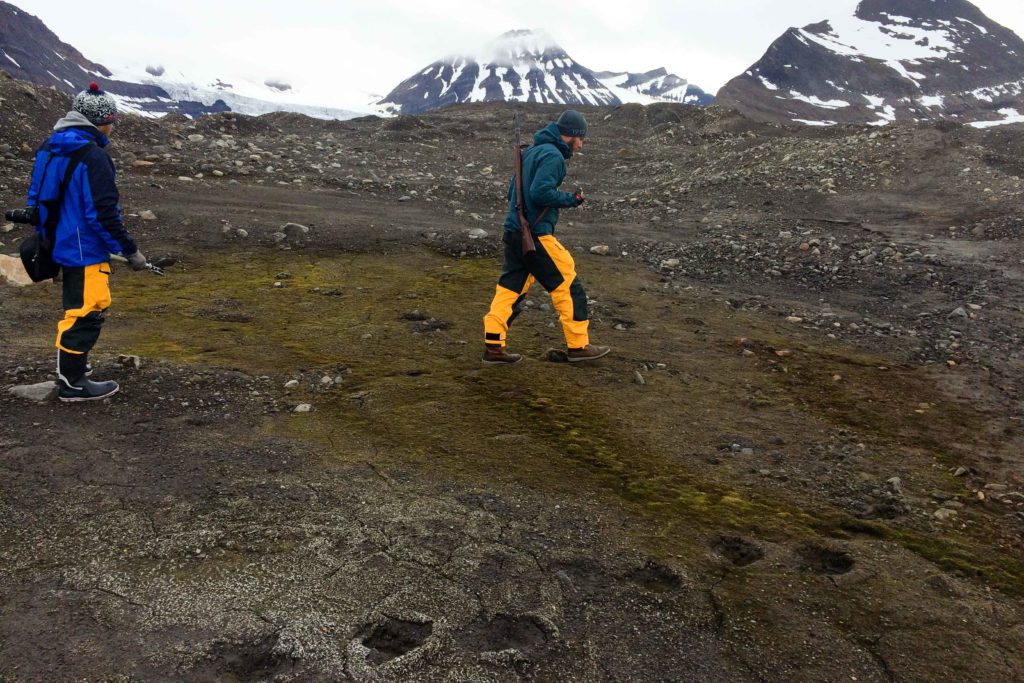 We are not alone. Polar bear tracks near the beach. By Terry Ward.
And so on our first walk up a ridge from a beach in Hornsund, when large polar bear tracks were the first thing we spotted on the rocky sand, I was Jon's shadow.  Never more than a step or two behind him and his rifle, and my head on constant swivel in a hyper-aware state.  After a while we realized this path of least resistance we were taking up the mountainside was the same one the polar bear had taken. And we paused in its seemingly fresh tracks on a cliff overlooking a glacier and noted a flattened area surrounded by feather-filled dung  where the bear had bedded down (the bears feast on eider ducks and their eggs when a fattier seal meal isn't around). I don't think I've ever walked in such savage wilderness, or put one foot in front of the other with so much respect for where I was.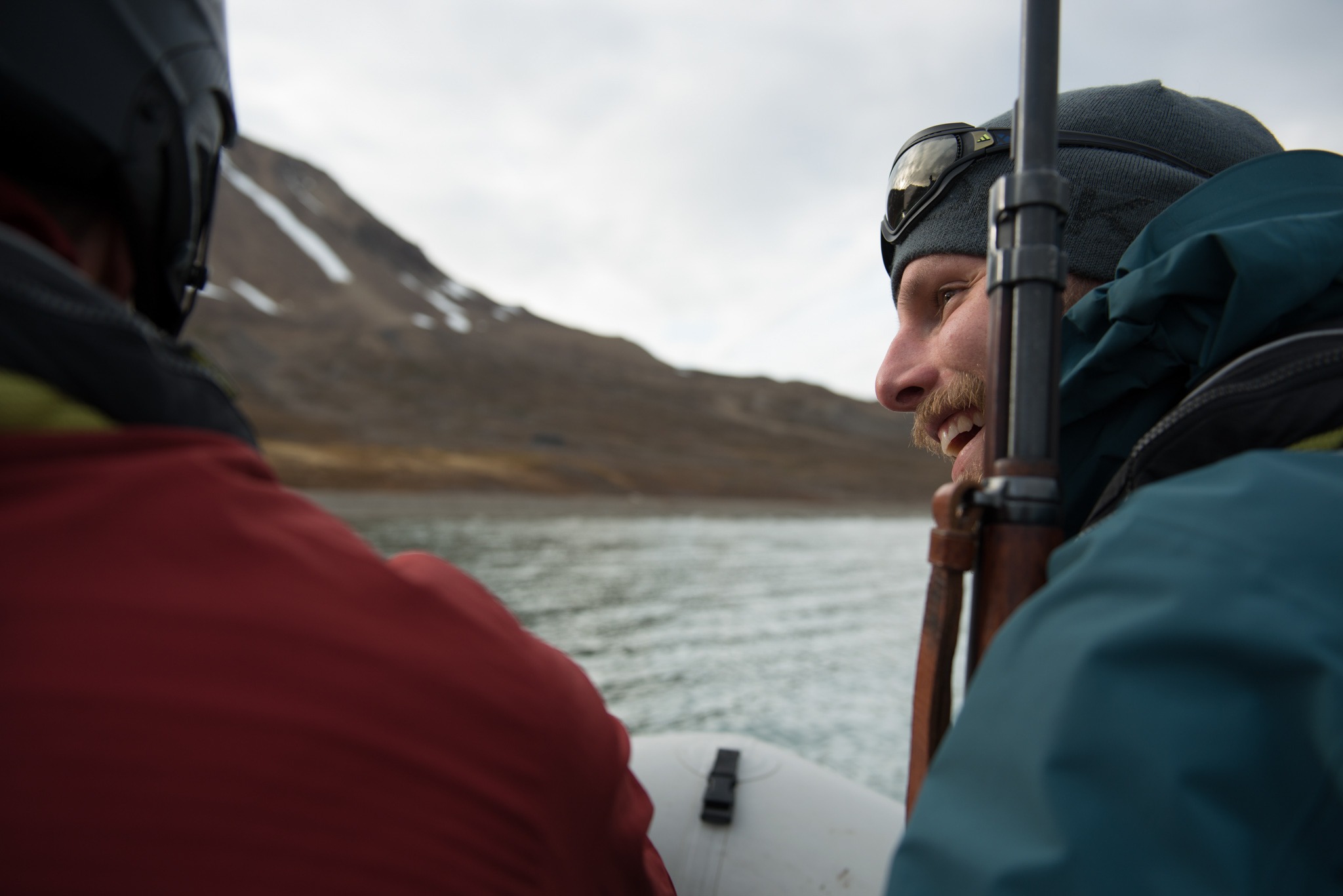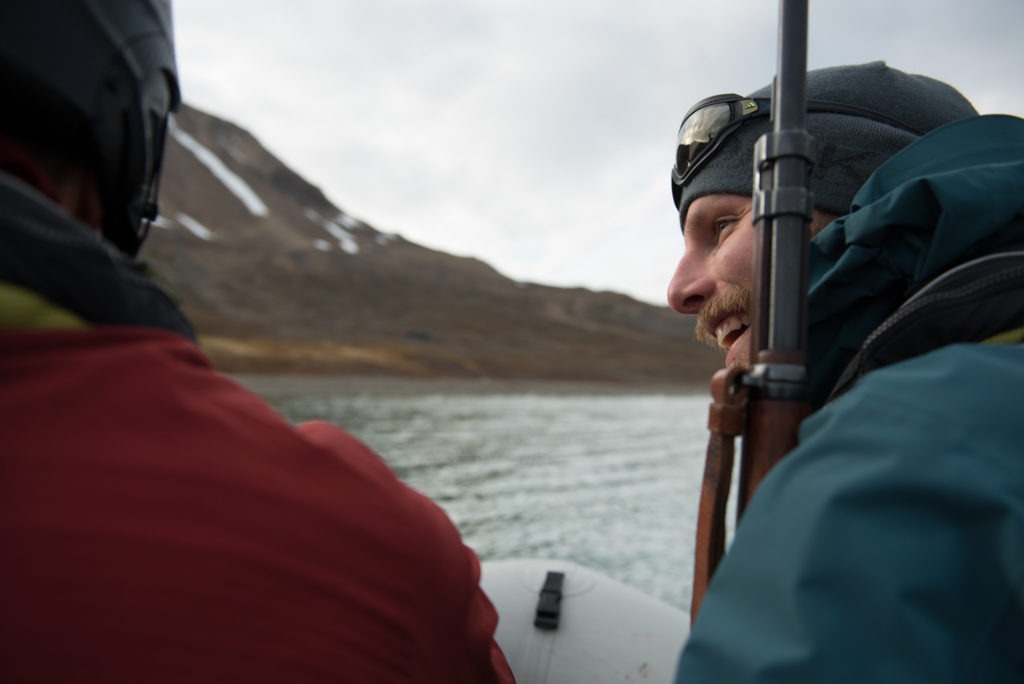 John with his old faithful, a WWII rifle. By Daniel Hug 
Because it's important to have someone in Barba when we're at anchor in case the boat's hold on the bottom slips (as happened when we first arrived in Hornsund), the five of us plan to head out on land excursions in Svalbard in two shifts. Andreas and Jon, with their military and hunting experience, are our marksmen, so the group divides along those lines.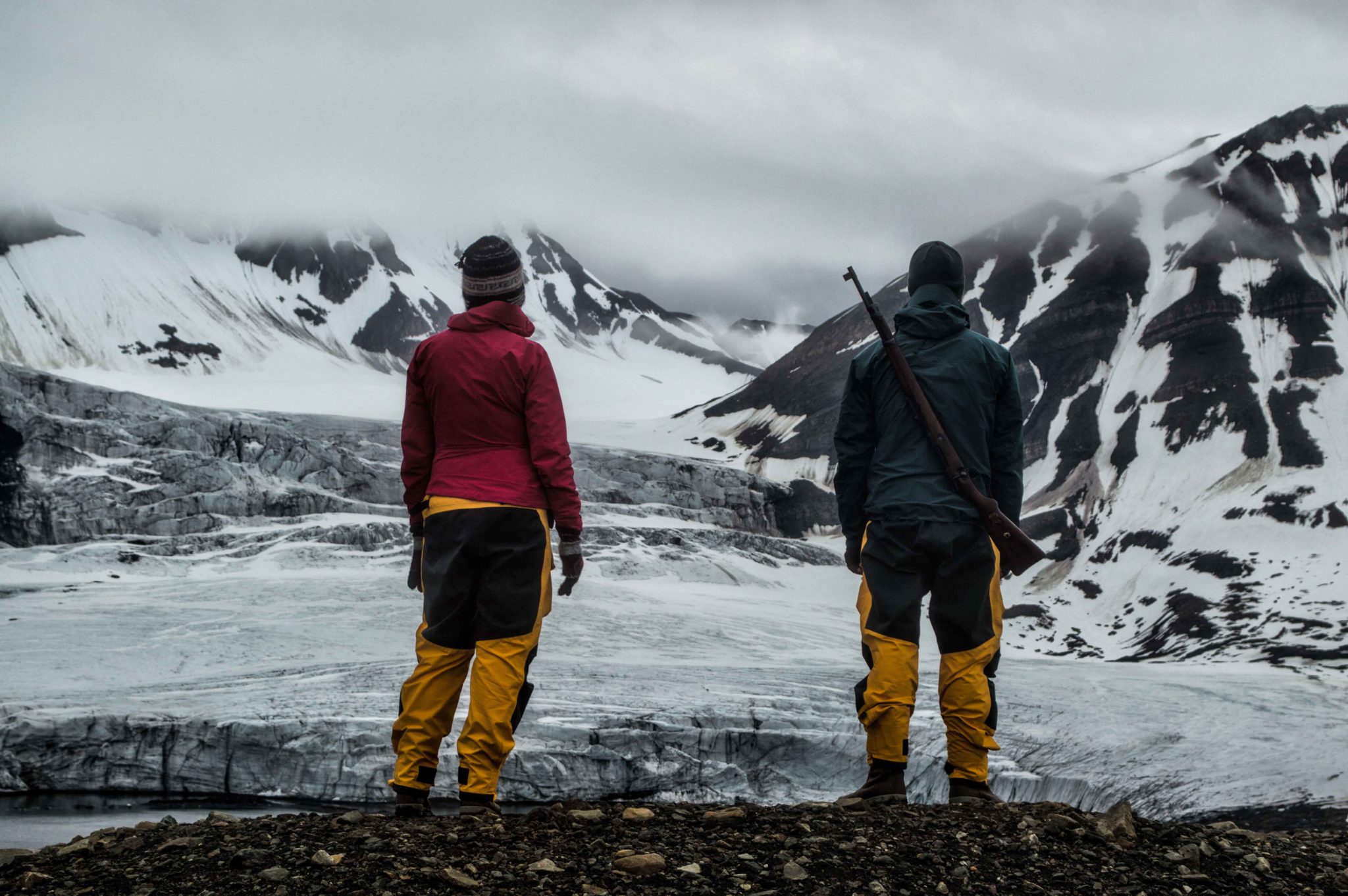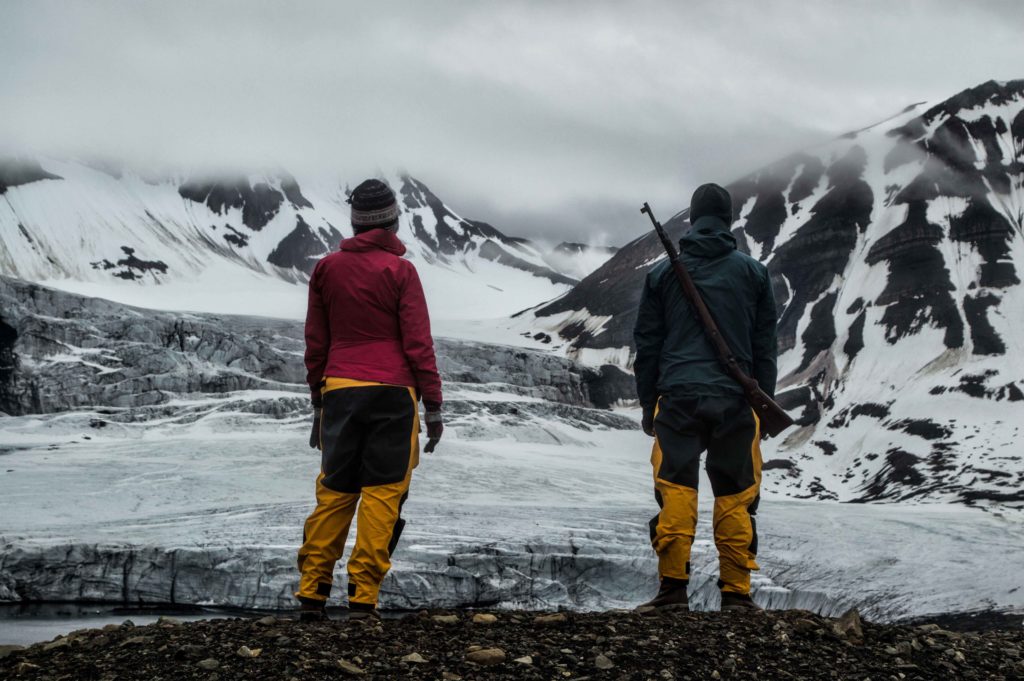 Terry and Jon admiring a glacier in Hornsund. By Ivan Kutasov. 
Hornsund was a stunning place, with wide, low glaciers lining almost the entire 30-km-long fjord and hardly another boat in sight during our two nights there. Andreas and Dani took the occasion to try their first armed paraglider flight, hiking up a nearby mountain and flying back down with a long arch over the glacier, which grumbled its approval beneath them. Ivan and Jon tossed out the fishing lines with no success. The layered freshwater glacial runoff and seawater in the fjord creates a cloudy mix that isn't fish-friendly. We did spot a curious seal one day that spyhopped around the boat a few times as if it was considering leaping aboard. And navigating in the fjord was a great occasion to practice cruising between the bergy bits that clog the areas around the glaciers. It feels a bit like a game of Frogger as you swerve in and out of the ice. More so than polar bears, ice is our biggest worry here. Especially since Barba's hull is fiberglass. And being on watch means being on a constant lookout for ice. Hitting even a small berg at our usual 5-knot cruising speed would be enough to sink our floating home, the captain keeps reminding us.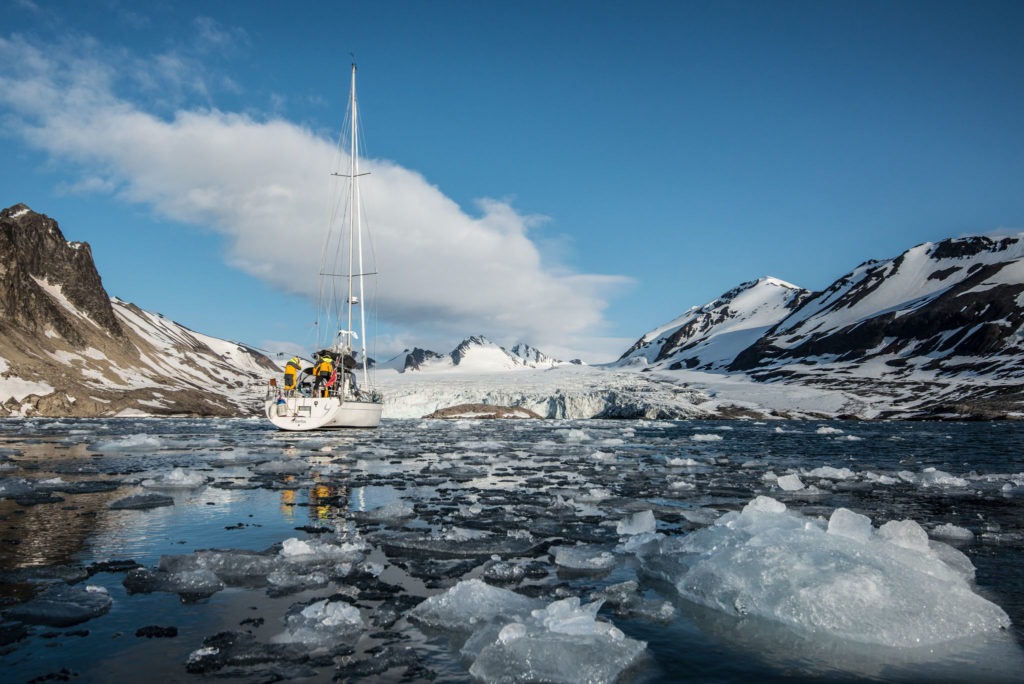 Not exactly what Barba was was built for, but still making her way. By Daniel Hug  
On one hike with Ivan and Jon we got a view from the summit across to the eastern side of the island. We could see that the horizon was clogged with sea ice, though it was hard to tell how much there was and how densely it was packed. Our goal for this trip is to be able to circumnavigate Svalbard with Barba. So we are constantly checking ice reports along the north coast and eastern islands. It doesn't look overly promising for going the whole way around, with lots of red no-go zones indicated at the moment. But we've talked to sailors who've managed to circle Svalbard this summer and we remain hopeful that ice conditions will open up in the coming weeks.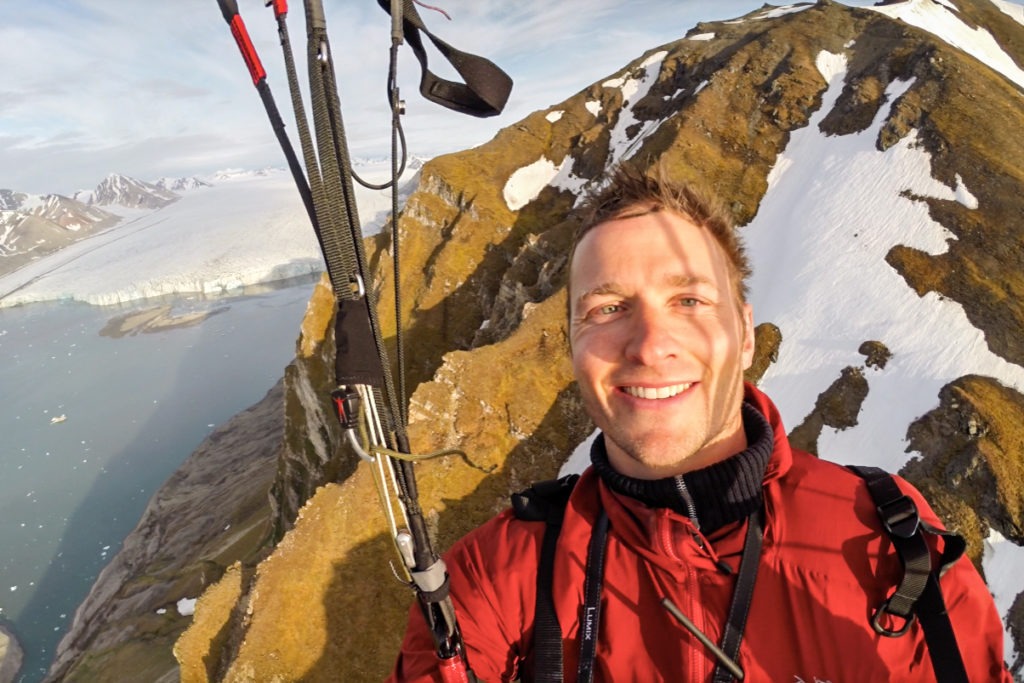 A typical day in the Barba office. Selfie by Andreas. 
From Hornsund we sailed north overnight with the intention of entering Van Keulenfjord, where we were told by several sources that there had been recent polar bear sightings. But when we arrived at the mouth of Bellsund, the former whaling harbor, a dense and low fog was slinking in steadily from the west.  So we decided to detour into Recherchefjorden, on the south side of the sound, instead. We found a calm bay to drop anchor (it's never an easy task to bring it back up – a core workout of the extreme and mucky variety that usually goes to Andreas or Jon). Jon, Ivan and Dani wanted to walk about 10 km along the coast to a century-old coal mining village where a few cabins were still standing. Andreas decided to launch the paraglider elsewhere for more glacier views. I took the opportunity to enjoy some solo time on Barba in the spectacular setting where the only sounds were the cheeps of auks and squawks of geese, and the water gently sloshing around the boat. I kept the flare gun close at hand.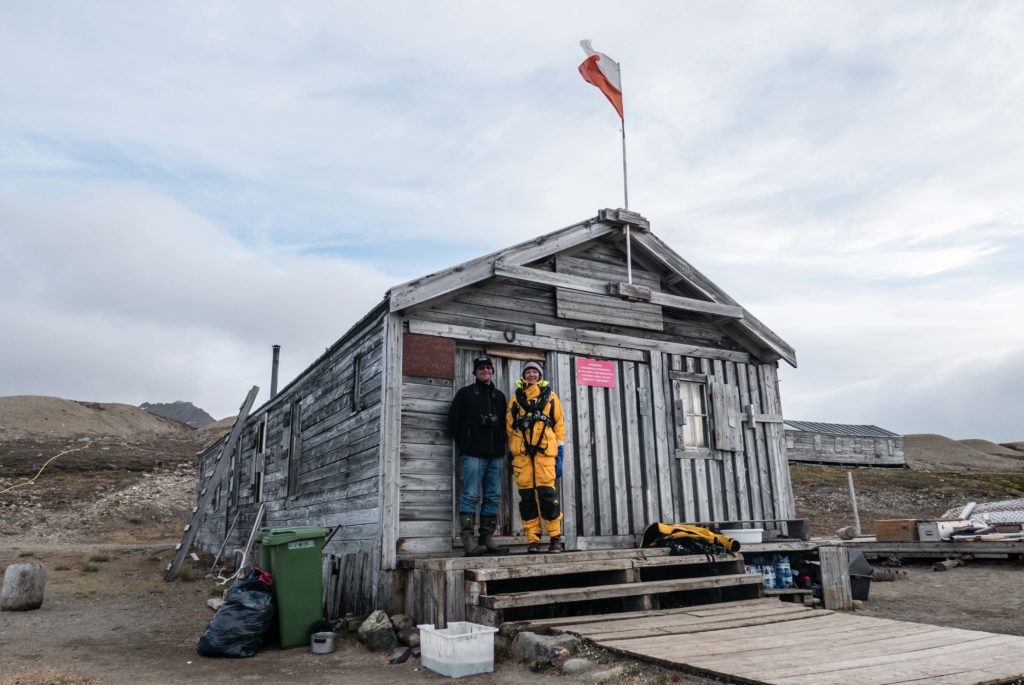 Terry with Piotr, a researcher at the Polish research station in Calypsobyen. By Andreas
When Andreas landed we motored over to the abandoned coal town to pick up the other guys. And it's there that we met a Polish research team based for the summer on the island of Calypsobyen to study coastal erosion and the diminishing permafrost layer.  They were the first humans we'd seen since arriving in Svalbard, and it was nice to lay eyes on some new faces. They invited us into their cozy cabin, lined with reindeer antlers and glacier maps, for tea. The projectleader, Piotr Zagórski, is a researcher with the department of Geomorphology at a university in Lublin and has been coming to this spot for 20 years. He talked to us about how the area's climate and glaciers have changed. Summer temperatures are warmer than he ever recalled these recent years, and the permafrost layer is shrinking and glaciers retreating. Piotr and a PHD student regaled us with stories of the five polar bears they'd seen since arriving in early June, including one big bear that awakened them at 6AM by violently shaking at their cabin's plexiglass windows. Piotr has seen many polar bears here over the years but still remembers 2011, when he saw three bears in a 2km radius around the cabin over the course of a few hours. The increase of the bears in the south, he said, most likely had to do with the diminished sea ice in the north that year.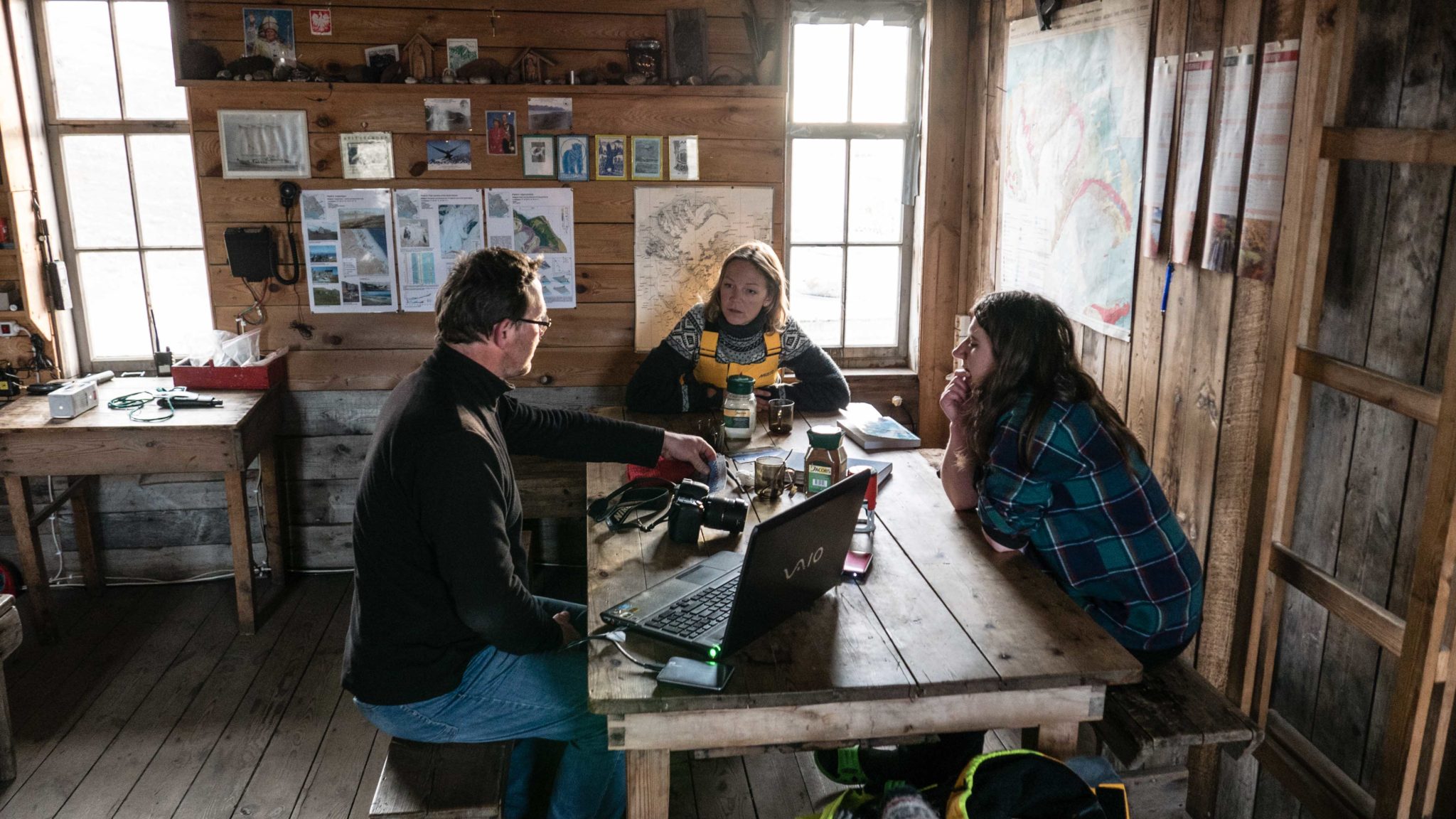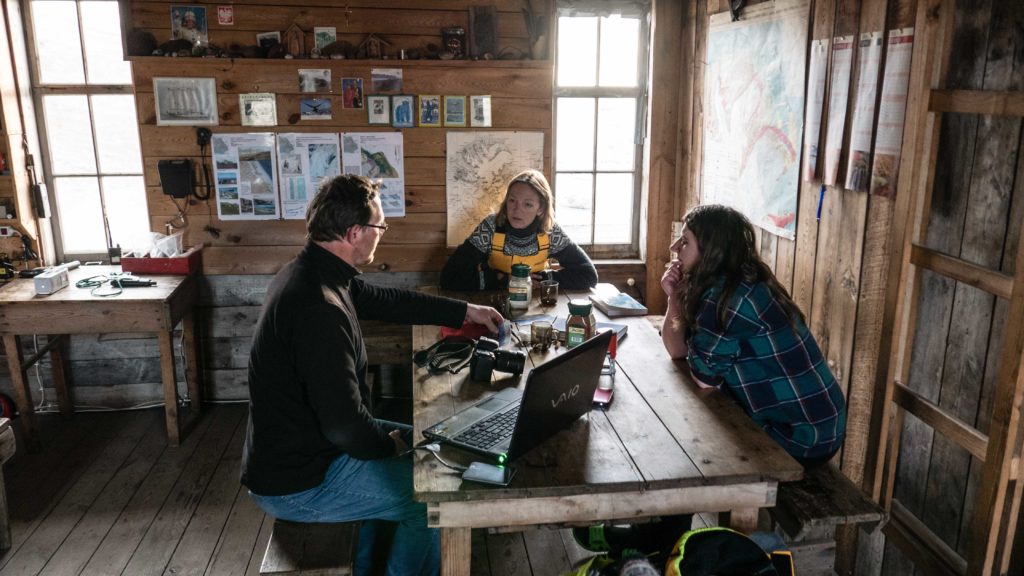 Terry getting information about the latest findings on climate research at Svalbard. By Andreas
We bid our new Polish friends goodbye, and set off for what was meant to be a 14-hour push to Longyearbyen and the promise of civilization. But that easily turned into 18 hours thanks to strong head winds that had us slogging upwind and taking large tacks. I was having flashbacks to the crossing, and again was spending as much time as possible horizontal in my cabin. We all slept so much that at one point, nearing Longyearbyen, Ivan awoke in our cabin and asked me what time it was. I said six o'clock. He asked, morning or night? And I had to think about it myself for a minute, too.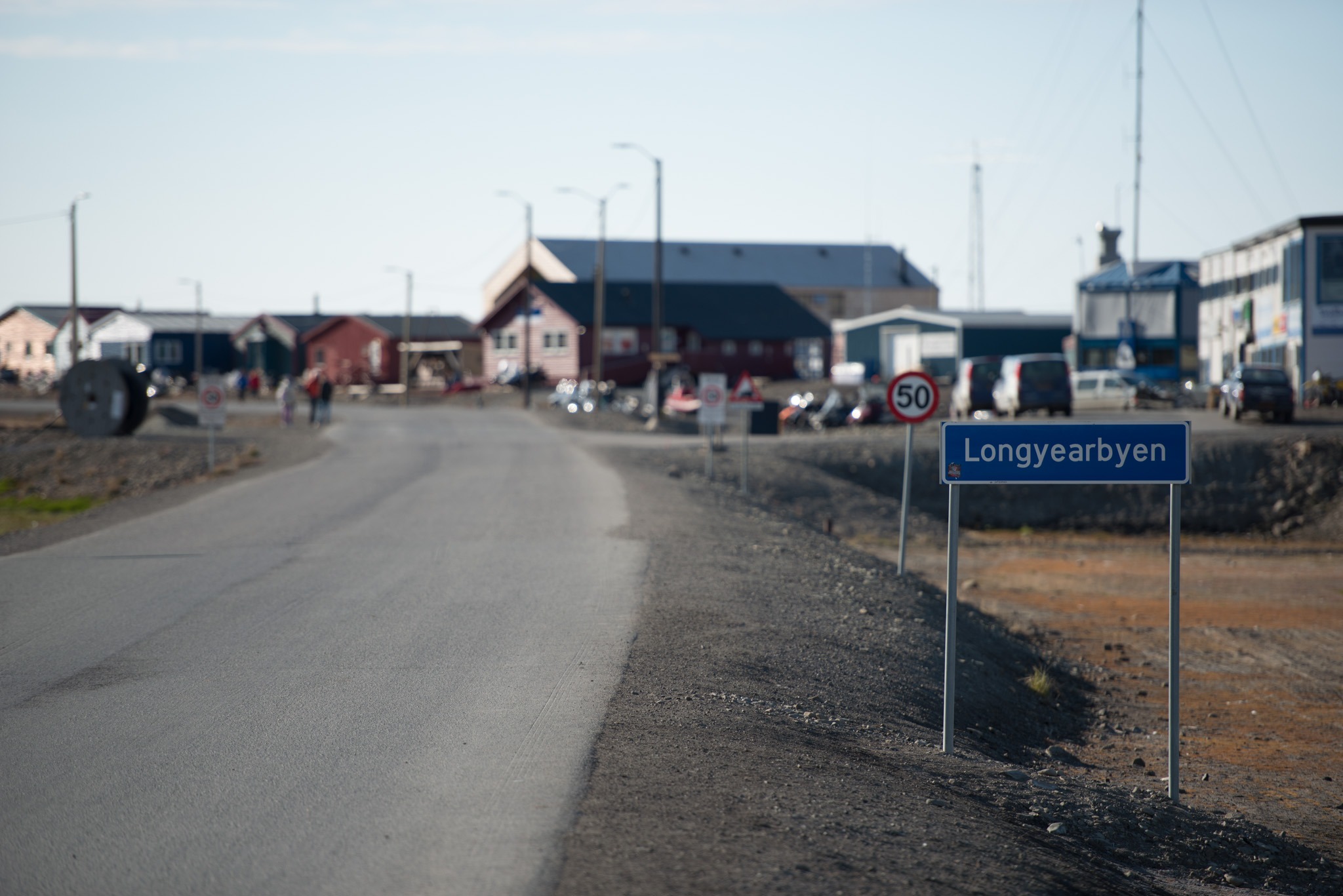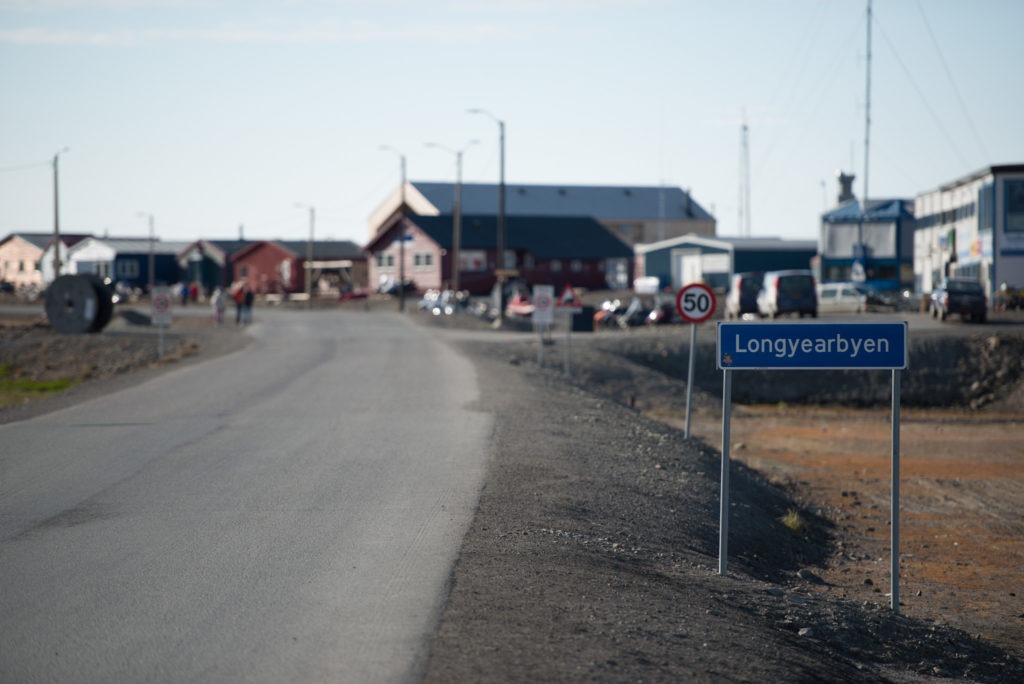 Svalbard, a hint of civilization. By Daniel Hug 
We were all happy to finally moor up in Longyearbyen, where we spotted a few familiar boats from Tromsø in the harbor. Since arriving here it's been a bit of a decadent blur. Partying in pubs, 80s night disco, hamburgers and cappuccinos, ice creams and hot showers, laundry, and meeting many new friends who've imparted all kinds of knowledge for our trip.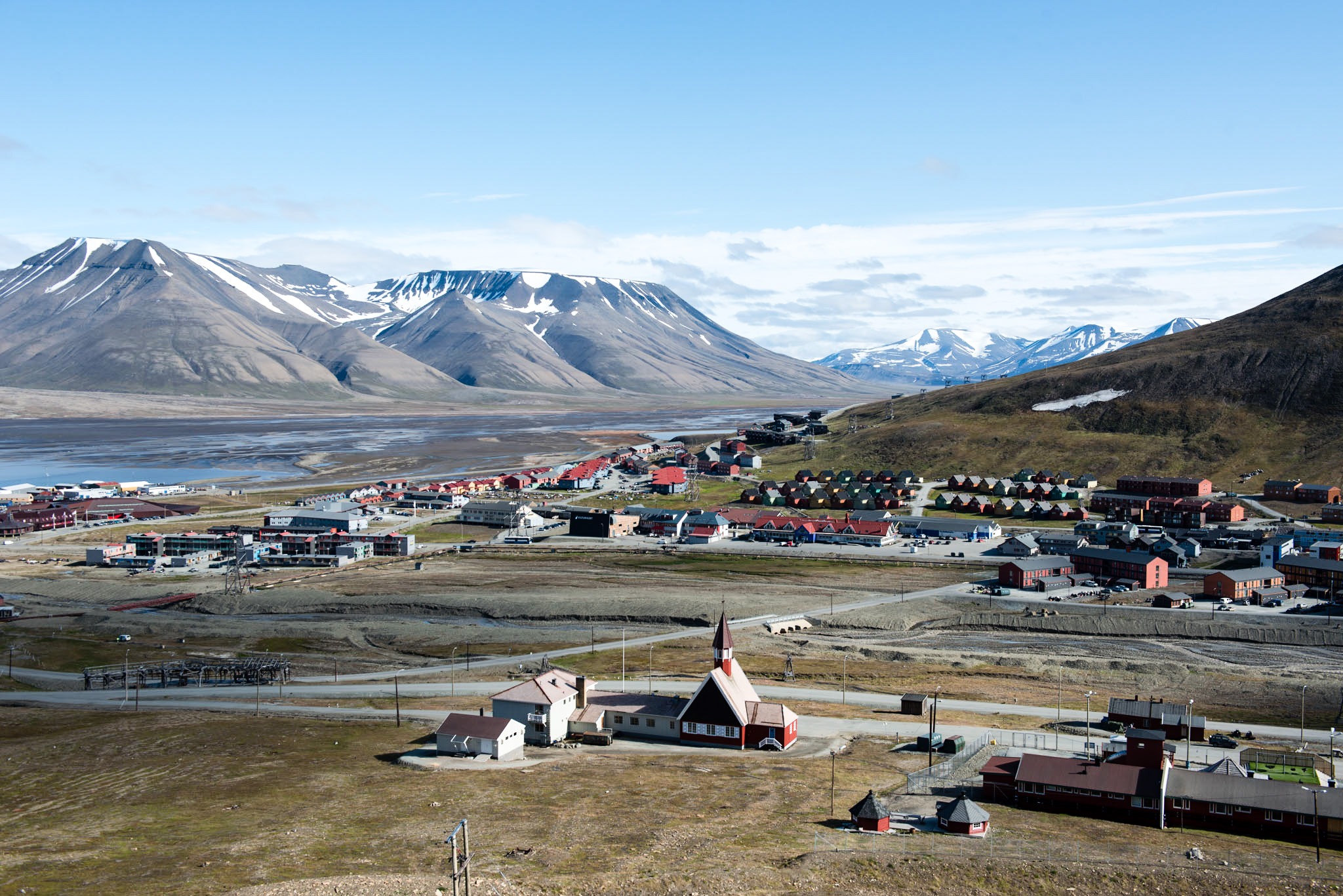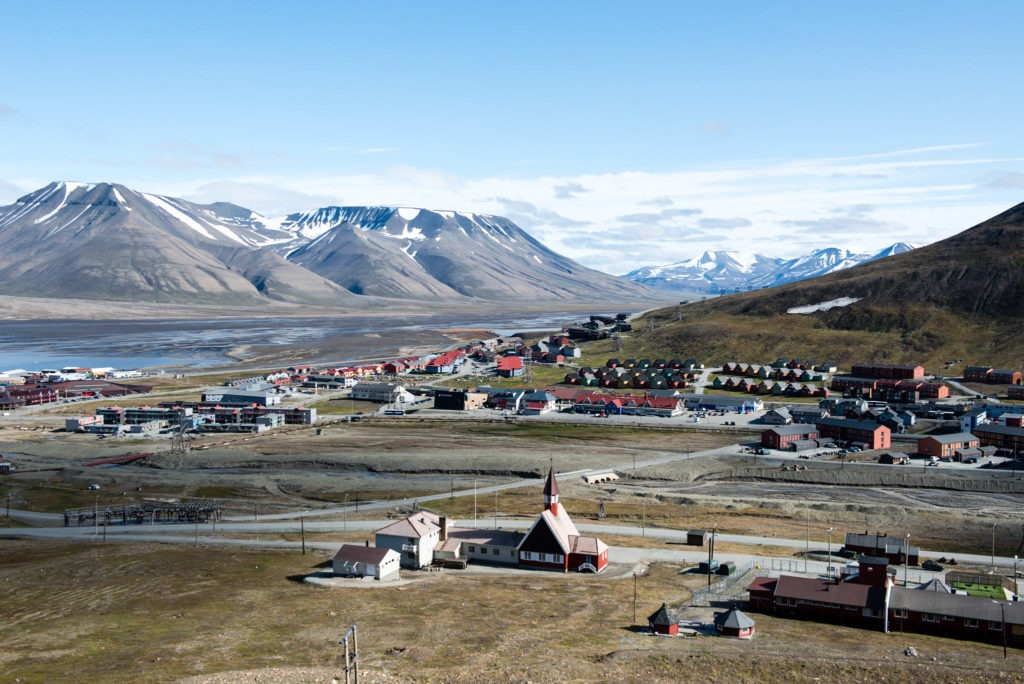 Longyearbyen as seen from above. By Daniel Hug 
Longyearbyen, pop. roughly 2,400, looks a bit austere from the outside in summertime – snowmobiles rest everywhere on wooden pallets atop the soggy ground. Colorful houses perch on stilts over dusty streets and the rusty remnants of old coal mines and shipping containers languish under a grey sky. But start talking to anyone here and guarantee you'll be entertained if not fascinated.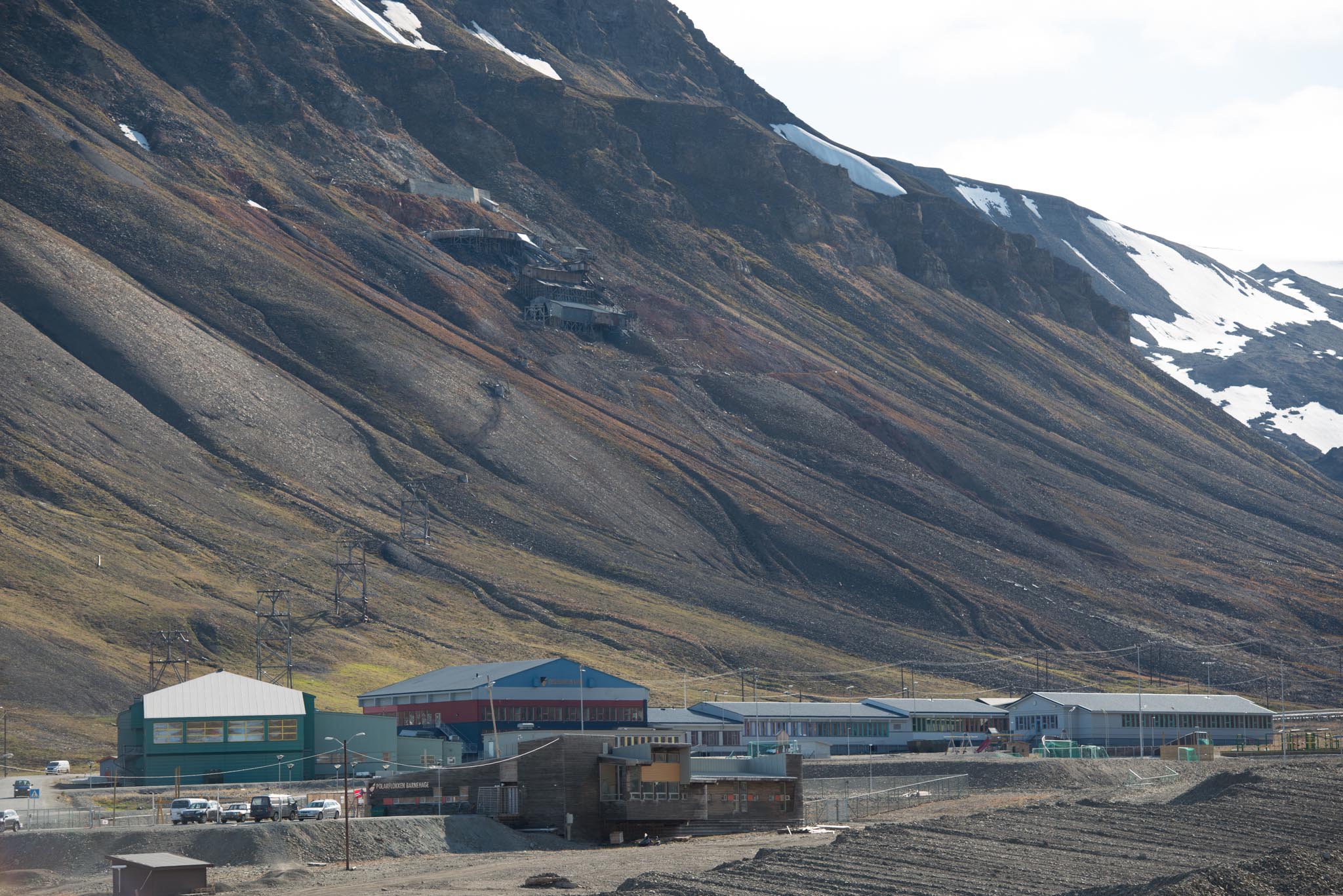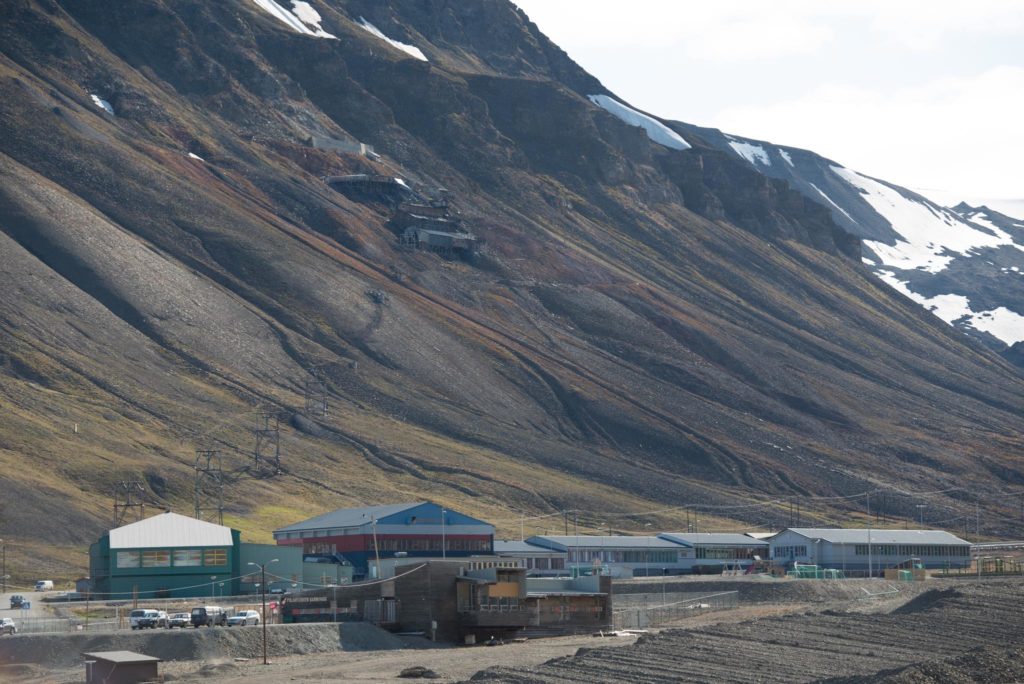 The foundation for Longyearbyen is coal mining. By Daniel Hug 
Anybody can move to Svalbard and open a business here with no visa or work permit required. You earn Norwegian kroners and pay less than 16 percent tax, a fraction of what Norwegians are taxed on the mainland. So there´s still a frontier vibe and it feels like everyone you meet is either running toward some dream or living it out here already. "The unhealthy things are cheap here (cigarettes, alcohol, snus) and the healthy things (vegetables, fruit, etc.) are expensive," an American bartender working on a permaculture project from Ohio told me, so it's hard not to spend all your money on partying. "It's the most civilized town in the Arctic," said a wildlife filmmaker from Australia who would know, and with the international mix and cozy pubs and bars I could see what he meant. We've used the time here to relax and gather information, chatting with everyone from North Sea captains and anchor repair machinists to teachers, environmentalists, polar bear experts and sailors about why they're here and what we shouldn't miss.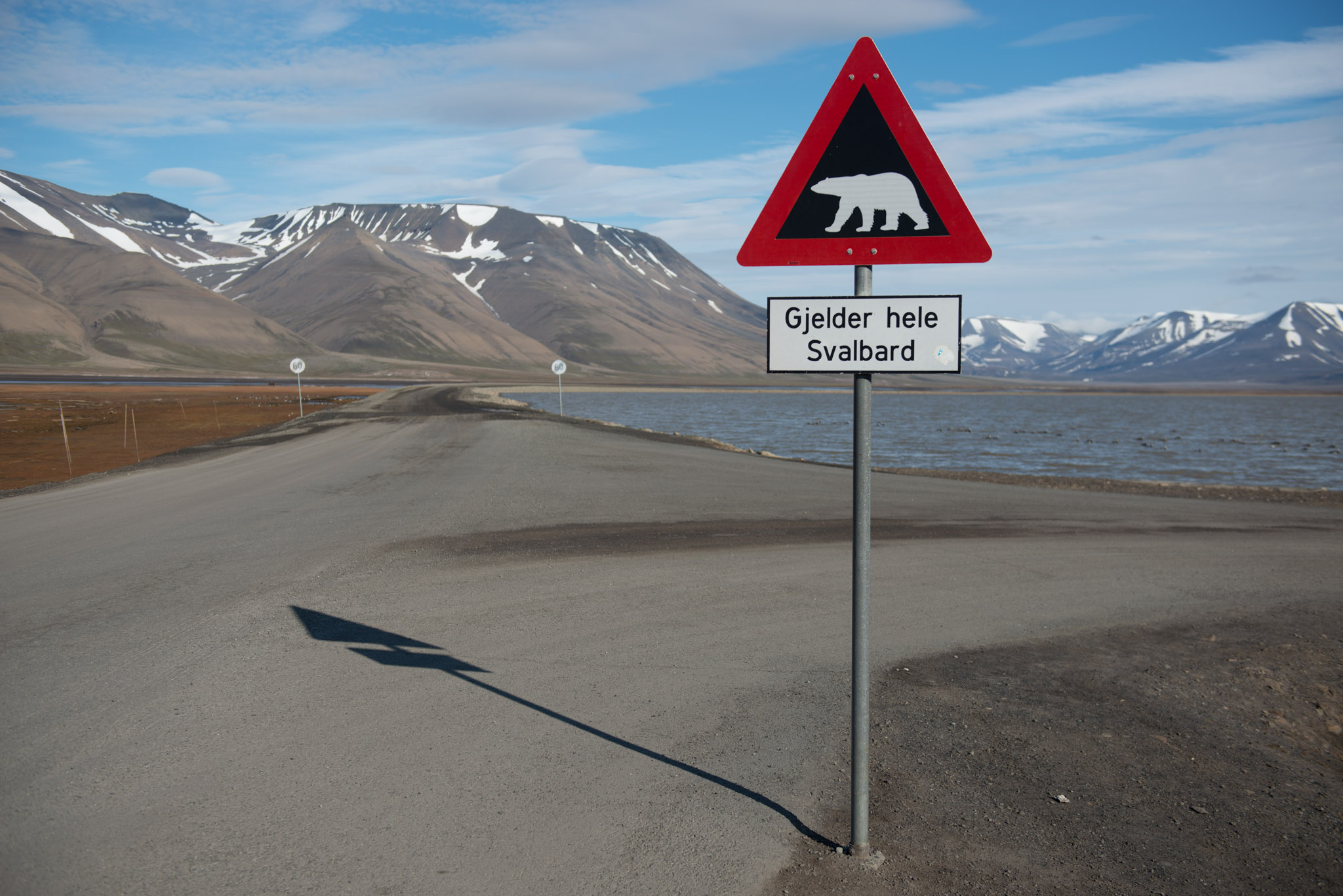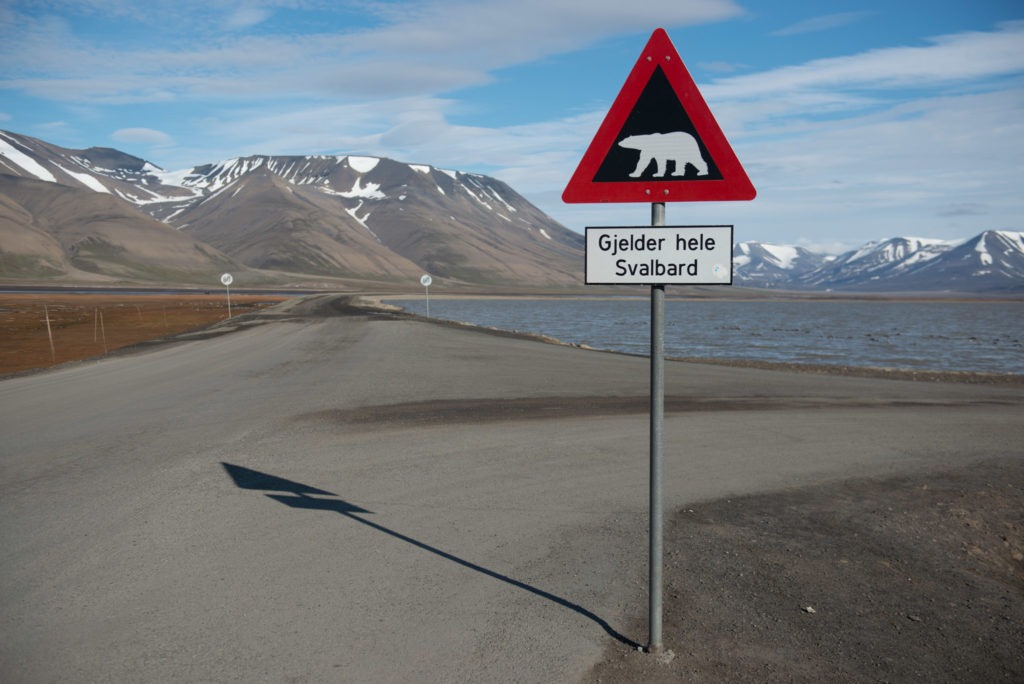 ´Valid all over Svalbard,´says the polar bear warning sign. By Daniel Hug 
Today we will sail out for the longest and wildest leg of the expedition. The wind is howling already here in port. We're planning to hit the Russian settlement of Barentsburg with our onboard Muscovite, Ivan, as our guide, before continuing north up the coast. Walruses, beluga whales, minkes, bearded seals, blue whales and, of course, polar bears are all out there, in and around the ice. And I´m pretty sure when we first lay eyes on any one of those fabled creatures we won't find ourselves missing all this decadent coddling of civilization for a second.
Terry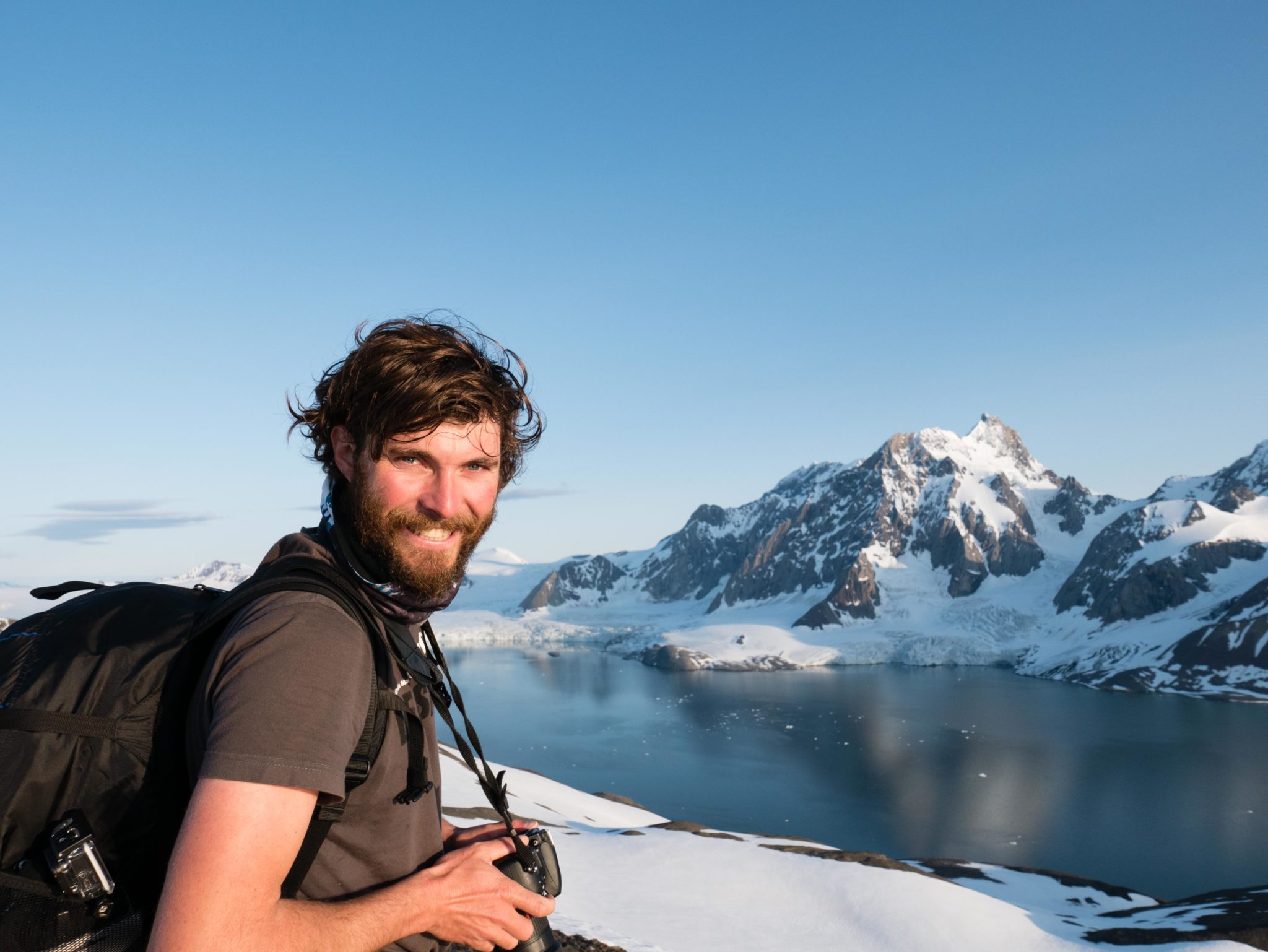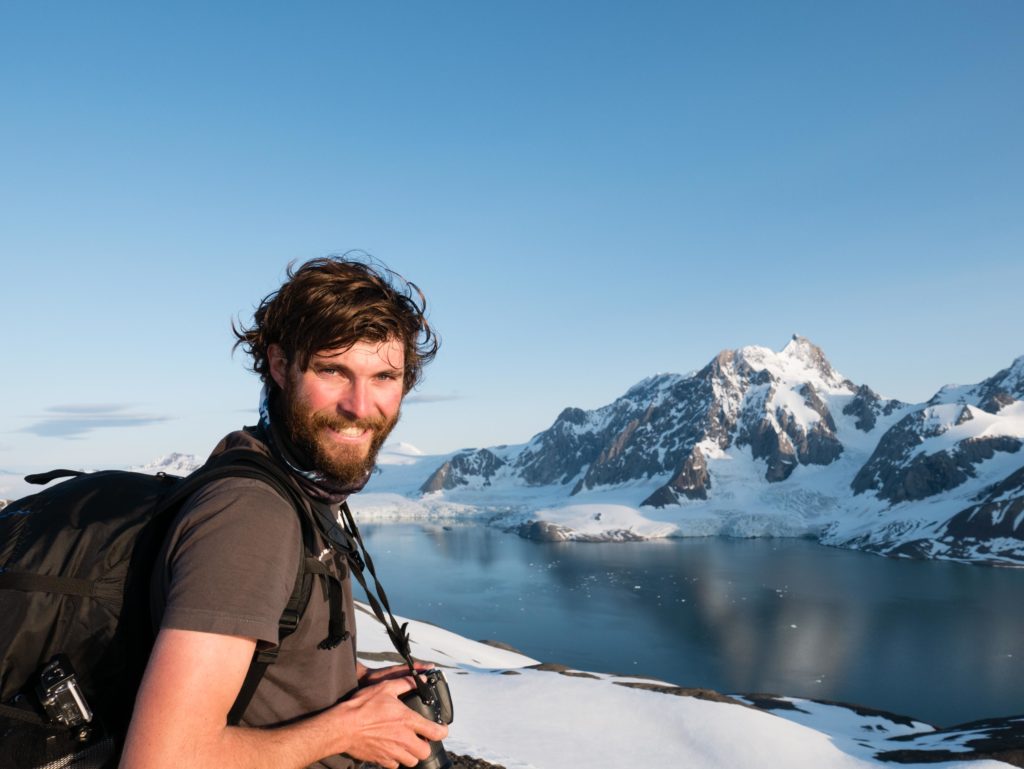 Daniel enjoying the view of Hornsundtind, dreaming about climbing the peak one day. By Andreas.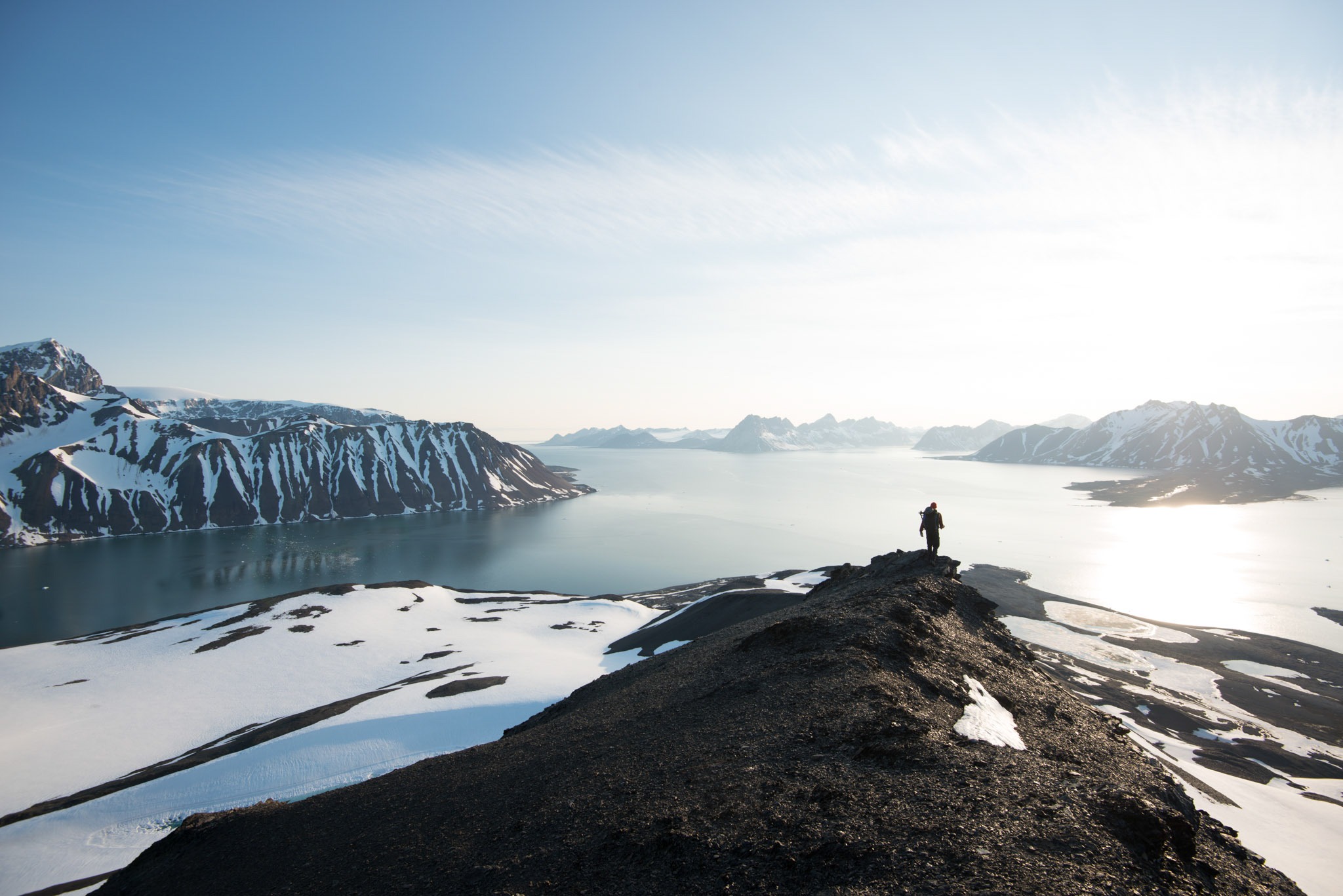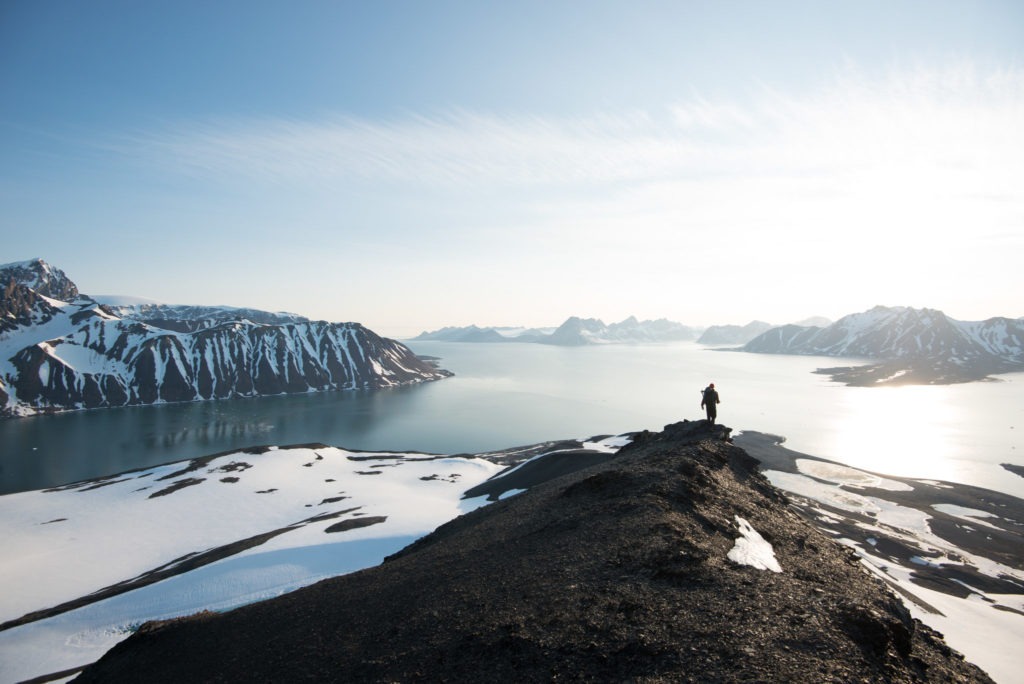 Andreas scouting for a good paragliding launch site in Horsund. By Daniel Hug.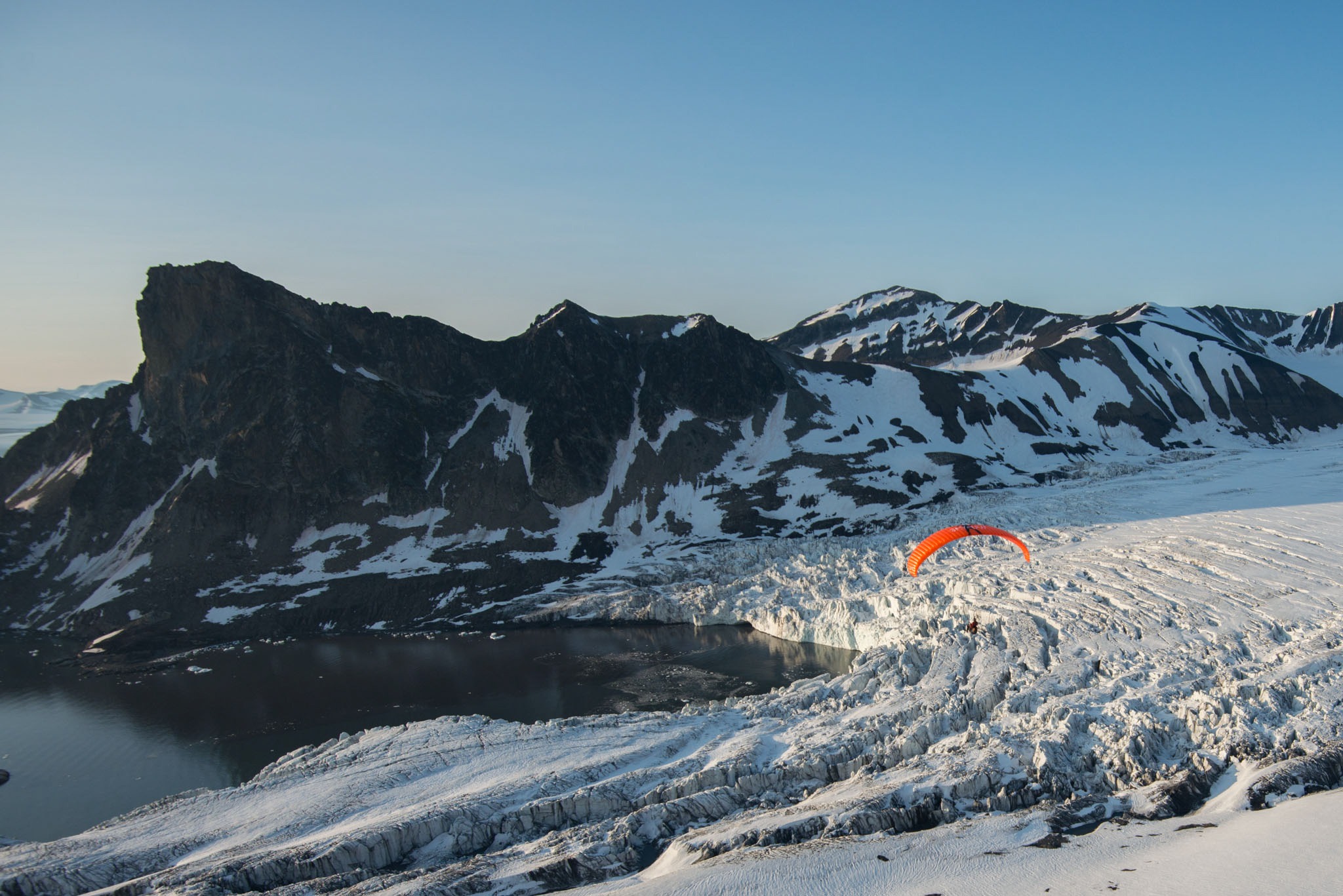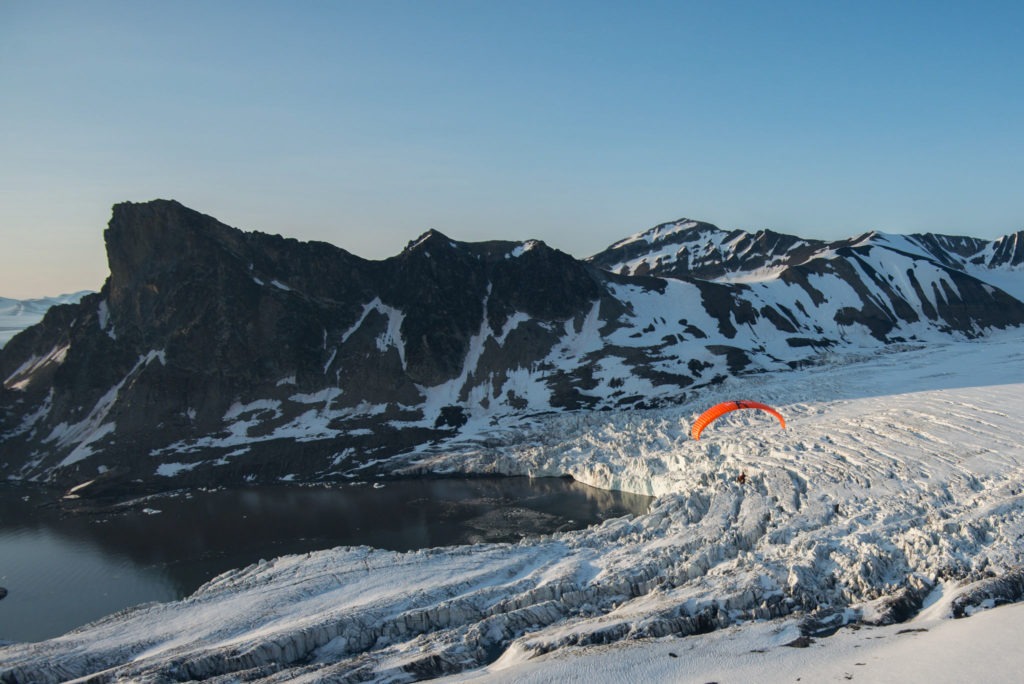 And a successful scouting mission it was. Andreas in some pretty unusual paragliding surrounds. Photo by airborne photographer Daniel Hug.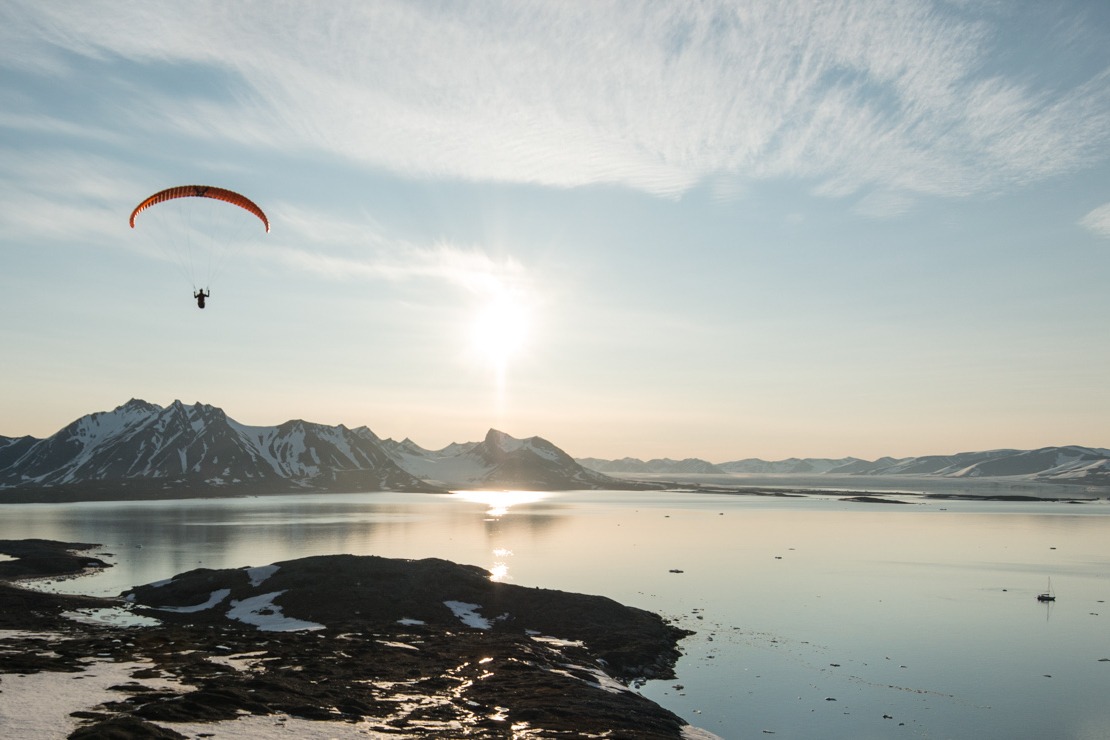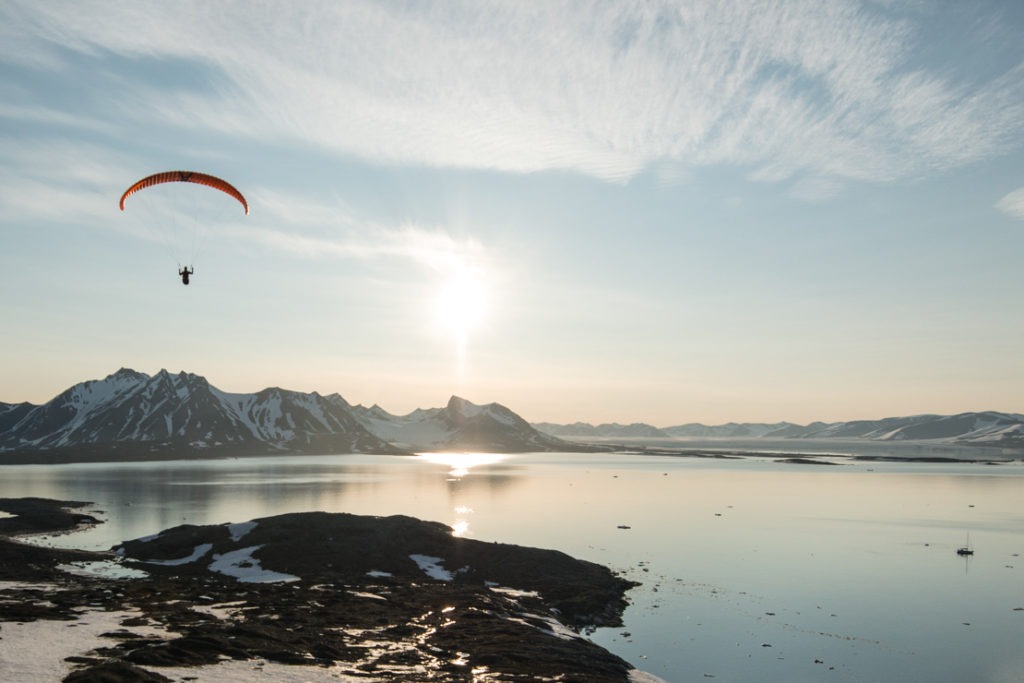 The Horsund fjord, Barba style. By Daniel Hug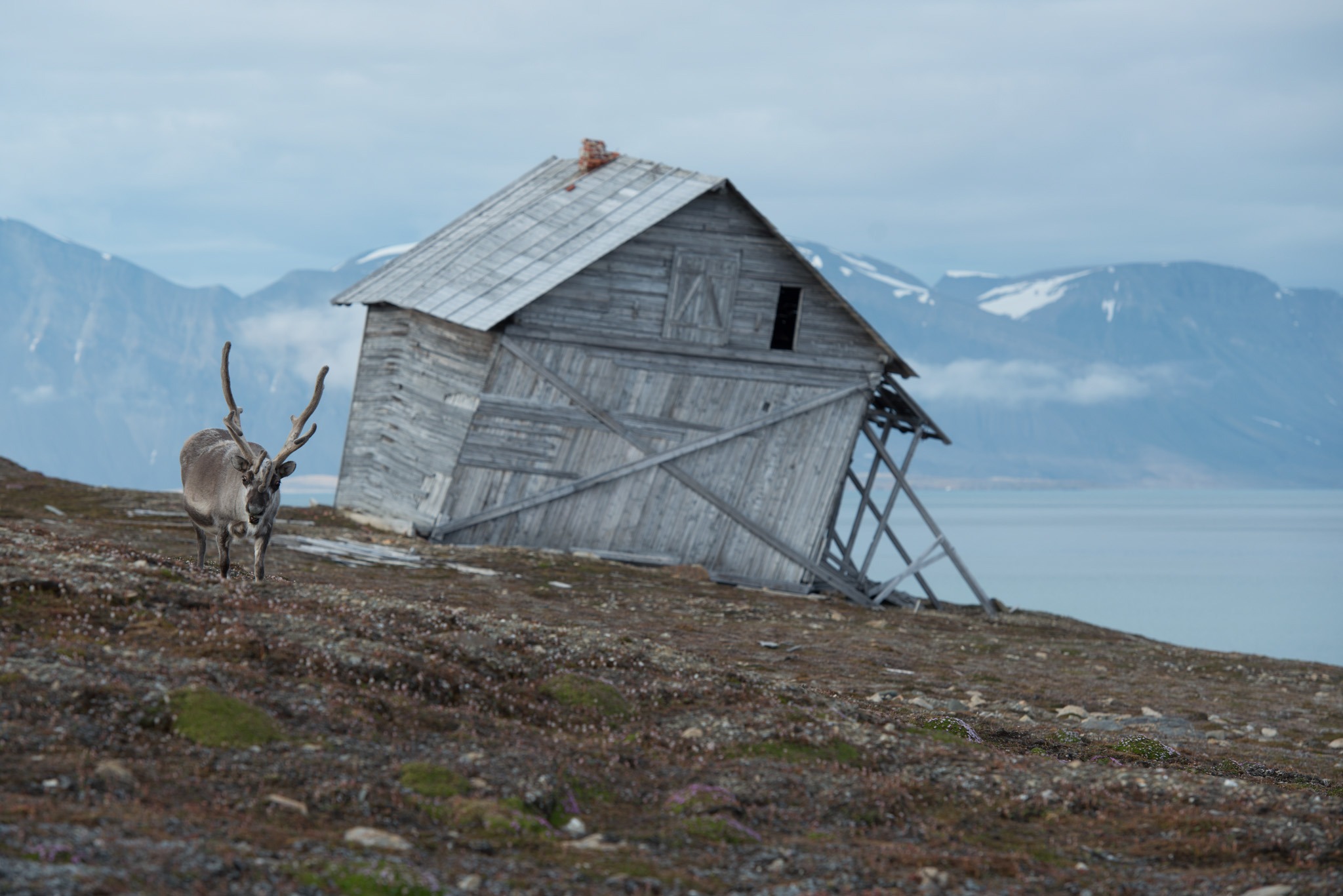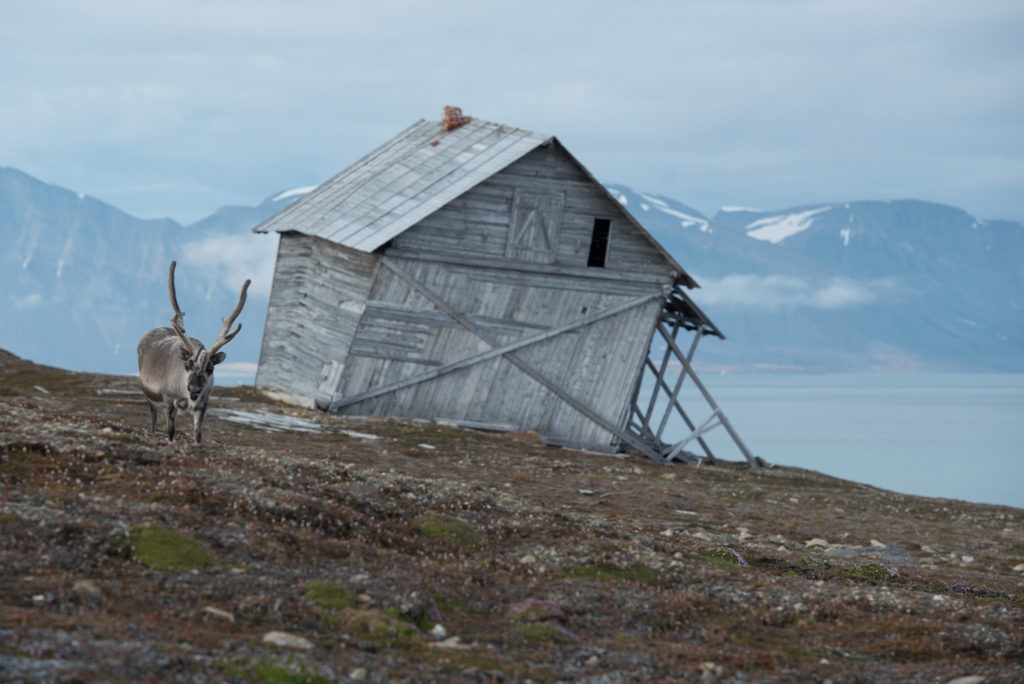 An inquisitive reindeer in the Recherche bay. By Daniel Hug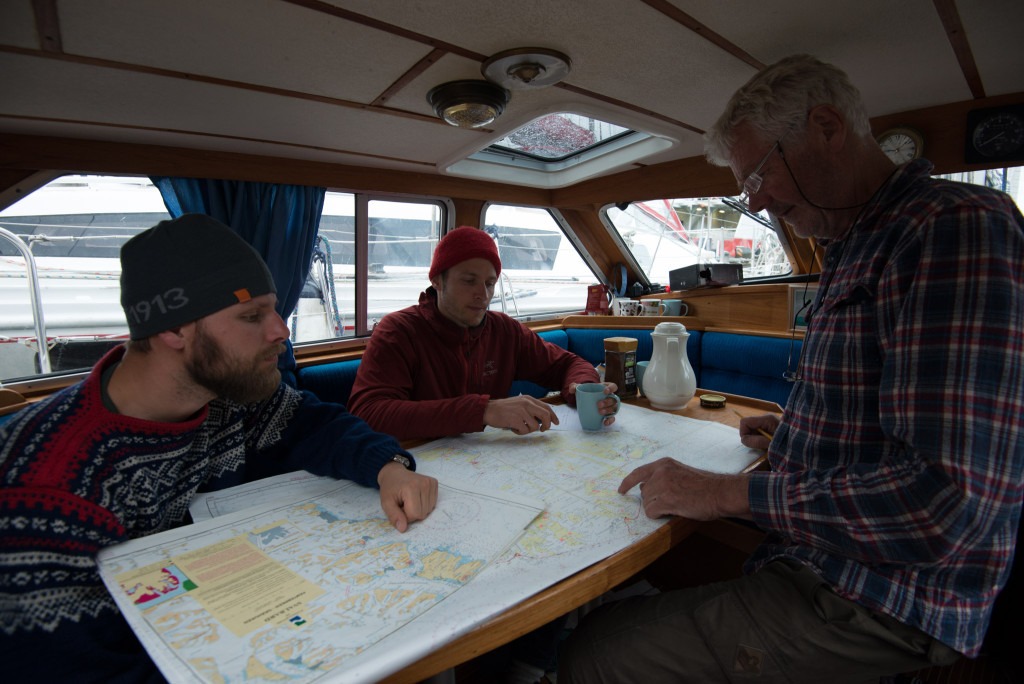 Exchanging information in port with the experienced Svalbard captain Pål Bjørn Olsen. By Daniel Hug
Featured photo by By Daniel Hug.