Late in the evening January 2 Barba slipped into the darkness, leaving the comfort of home behind yet again, chased north by a gale. The destination is Northern Norway, with a first stop in Tromsø, where we will be joined by two fellow adventurers flying in from Kyoto Japan, and Florida US with a few additional surprises joining down the line.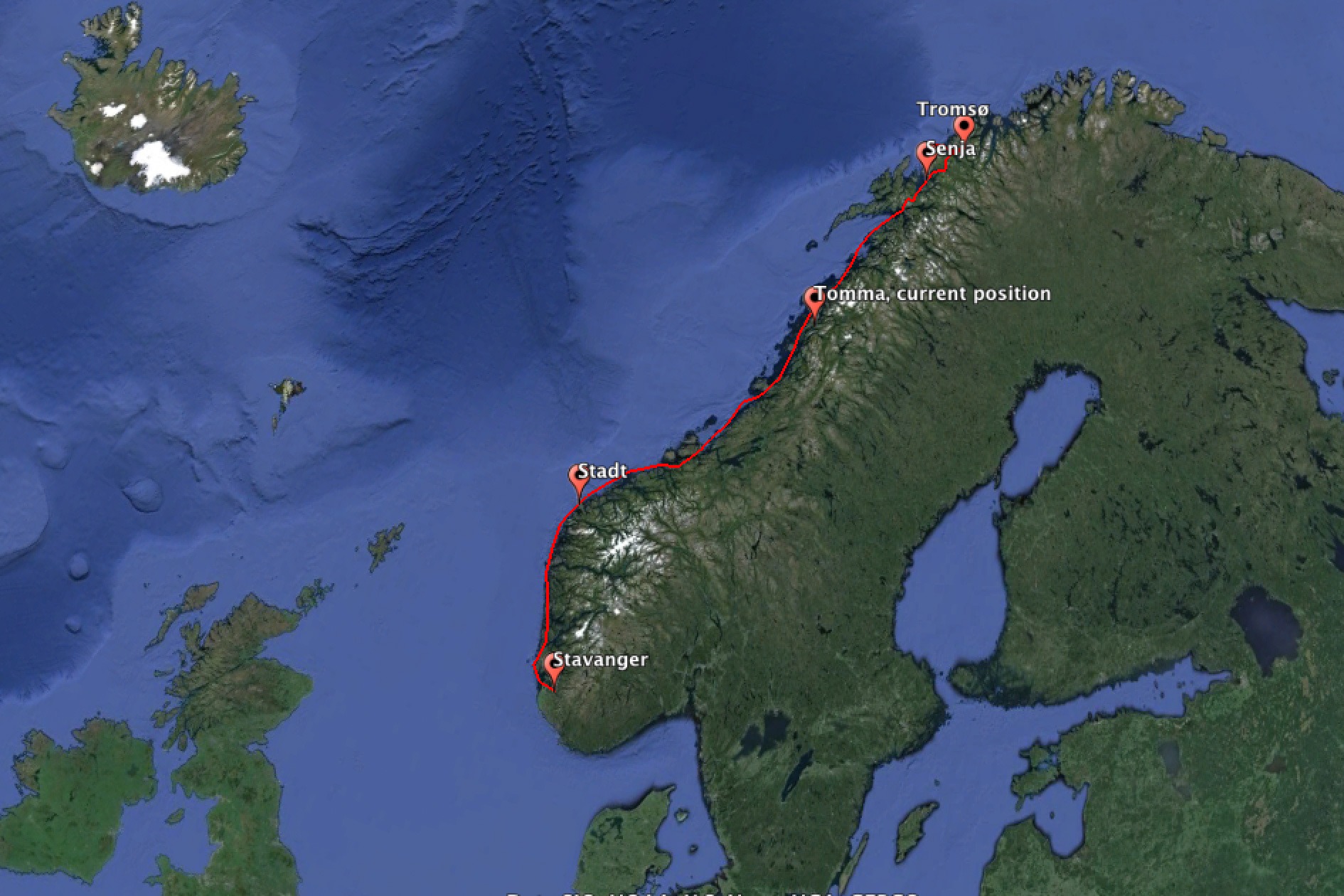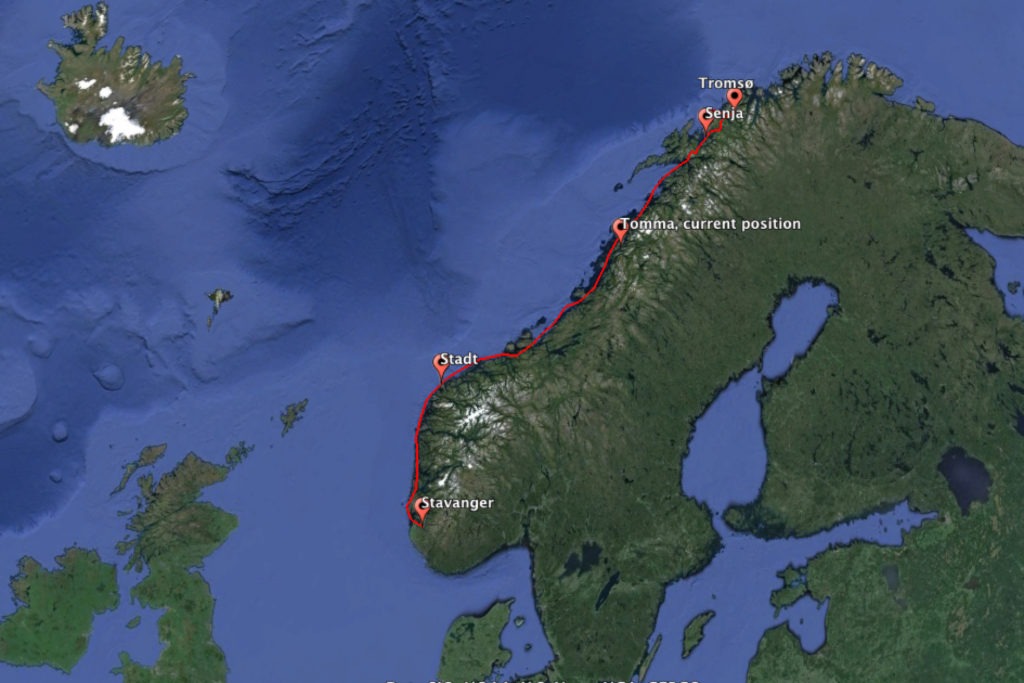 Planned route. Sailed from Stavanger January 2, rounded Stadt January 4 with Tomma as current location January 7. Eta Tromsø January 12th, followed by whale interactions in Senja January 16 – February 8. 
Sailing the Norwegian coast in wintertime is by most perceived as an unnecessary punishment of boat and crew. Up North the polar night prevails, it´s blistering cold and storms are frequent. Off course, we have a perfect logical reason for doing so. In the Tromsø – Andenes region, the entire Norwegian Orca population feeds on the overwintering herring. They are joined in by humpback and fin whales in large numbers. This is the perfect venue for Barba. For three weeks we will be spending time with these friendly giants of the sea both above and below water. A simple, and in our mind a brilliant plan. After mid February, when the whales leave the area, we have not had the time to figure out what do next. Somehow we expect to be back in Stavanger in the end of March.
With only 3 months available to recover from the previous journey, it has been hectic in the Barba HQ. Repairs, installment of new parts, insulation of the hull as well sorting diverse gear such as tailor made wetsuits from Italy.
To match the challenge of getting up North, the assembled crew is the most experienced seen onboard Barba to date.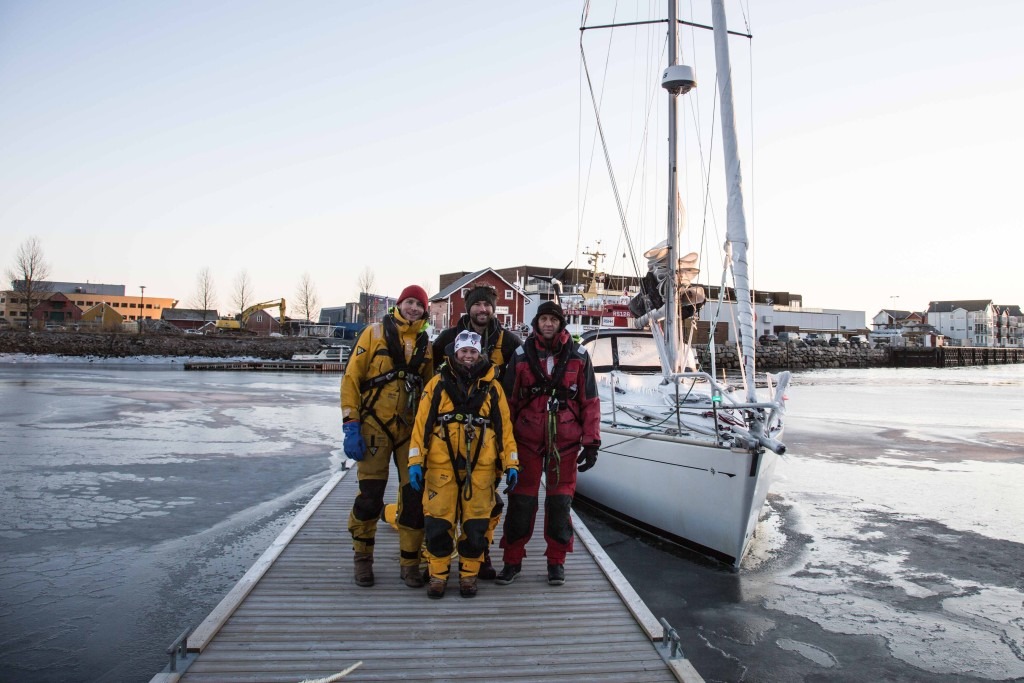 Stopover in Rørvik for fuel and food supplies. From the right, Andreas, Malin, Jaap and Rasmus.
Rasmus Tornquist from Denmark, a sea dog in his late forties was first to volunteer for the journey. Rasmus has been sailing since childhood, is educated as a naval architect and wooden boatbuilder and also has his own racing sailboat Bjorkski with which he frequently races double-handed in the North-Atlantic. Rasmus was recruited in the homeport in Stavanger, where he for the last couple of months has made a tremendous contribution of preparing Barba for the winter migration to Northern Norway.
Jaap van Rijckevorsel from the Netherlands is also onboard. He was introduced to Barba by crew wall of famer Martin. Jaap, in his early thirties has sailed since his early days. Noteworthy merits include winning the Swan45 Worlds as well as sailing the North-East passage (Greenland to Alaska) last summer. Jaap will sign off in Tromsø to continue his PhD in Arctic maritime operations.
The boat is skippered by myself Andreas, and it has so far been a great joy to pick up new skills from Rasmus and Jaap who I only briefly knew before sailing out.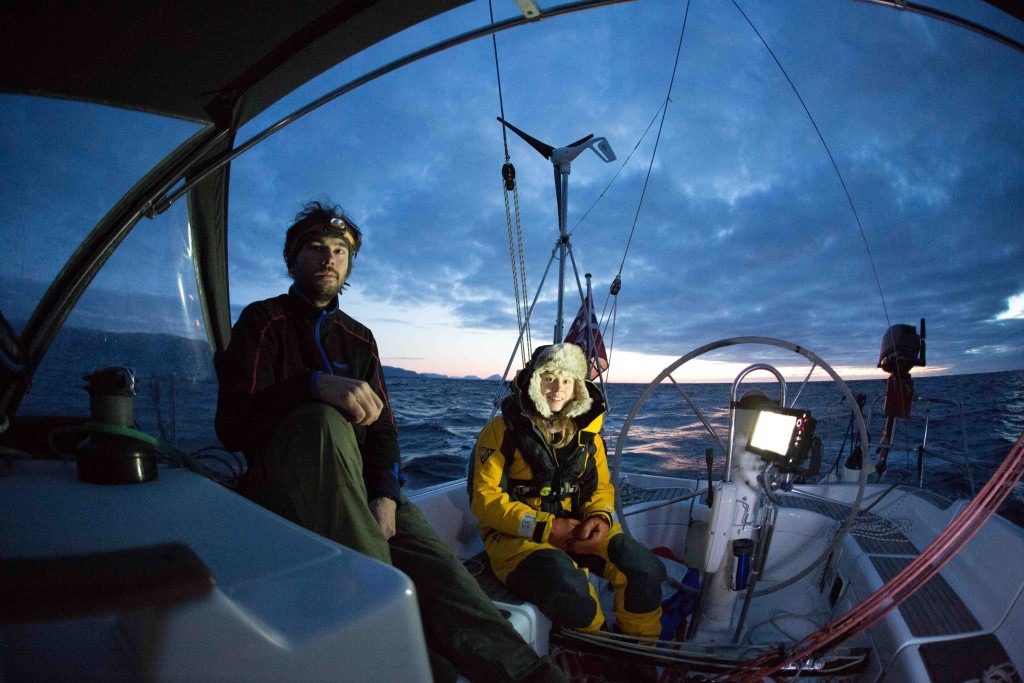 Malin at watch, under the supervision of Jaap.
Finally, we all enjoy the company of Malin Waage, a good friend of Jaap, who we picked up in Bergen. New to Barba, she jumped at the first occasion to catch the ferry to Tromsø to where she is to continue her PhD in Marine Geophysics. Although experienced in the great outdoors as a climber and skiier this is her first time sailing. She thus honors Barba traditions of introducing landlubbers to the ocean.
What makes sailing the Norwegian coast manageable in wintertime, is the opportunity to sail a greater part of the 800 nautical miles (7 days) distance inshore. At some stretches we are forced offshore. Stadt was the first obstacle. Notorious for bad weather, the Vikings would back in the day haul their vessels over ground to avoid it altogether. The stretch had been a concern in the planning phase, with potential bad weather preventing us from reaching the whales in time.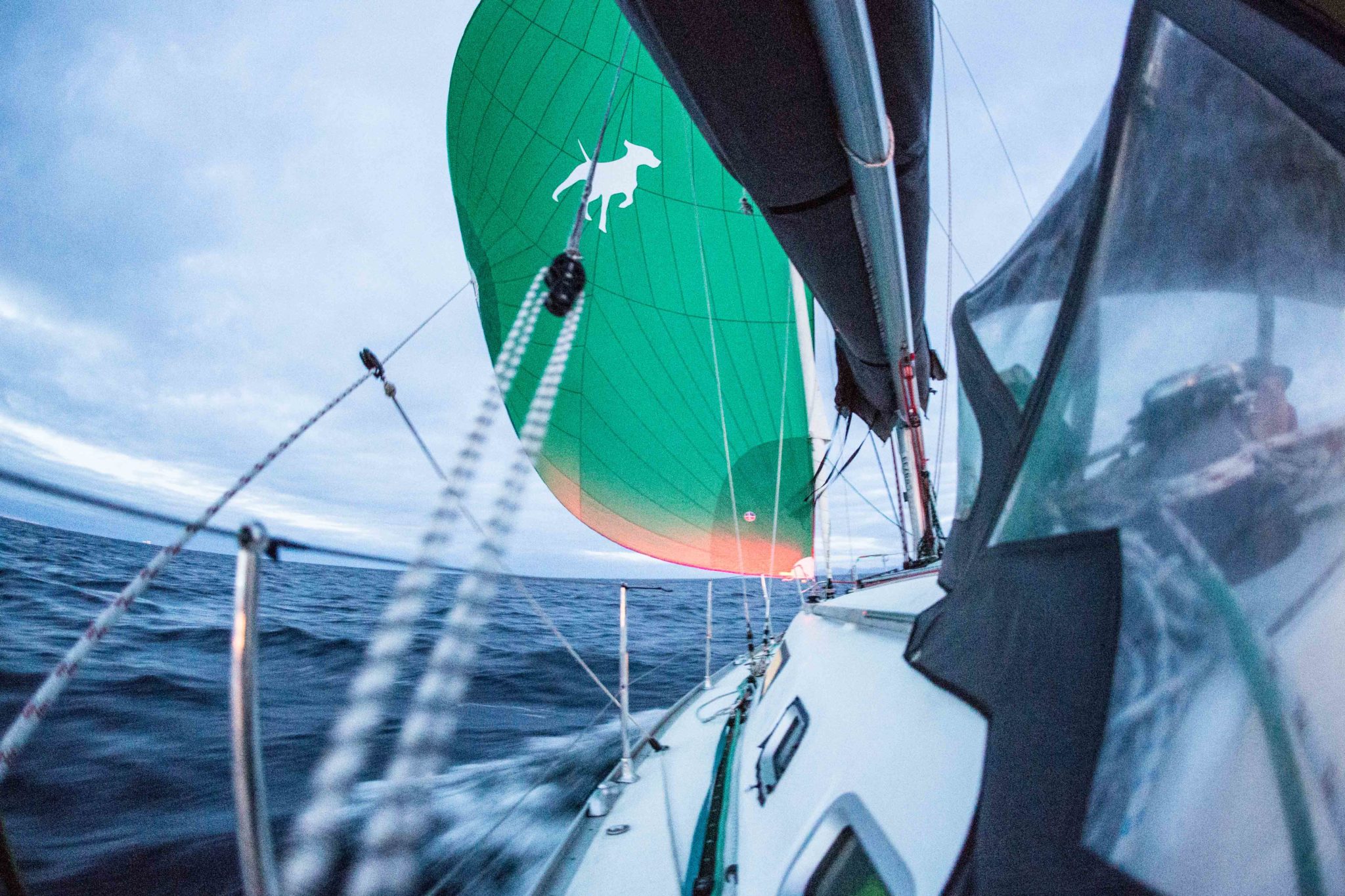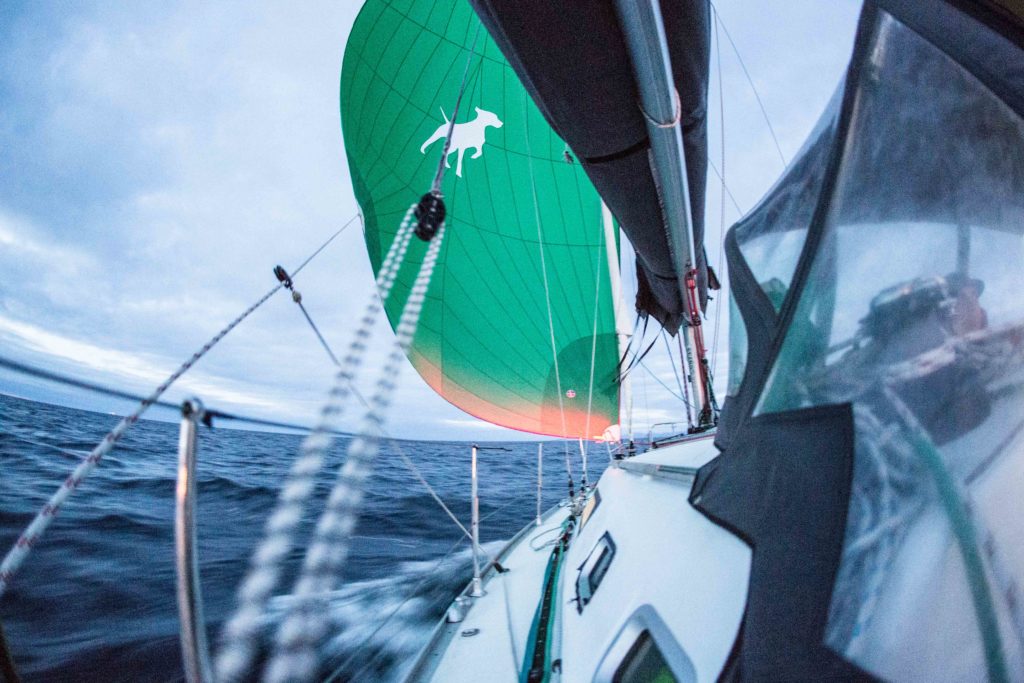 Cruising offshore Stadt. 
As so often before, once you get out there it´s easier then feared. We cruised past Stadt flat seas and offshore winds. It was the best place I could hope for to spend my birthday, sailing past the most notorious landmark in Norway. Jaap, Rasmus and Malin baked a cake, and something that resembled a birthday song was presented down below in Barba, our spartan yet comfy floating home.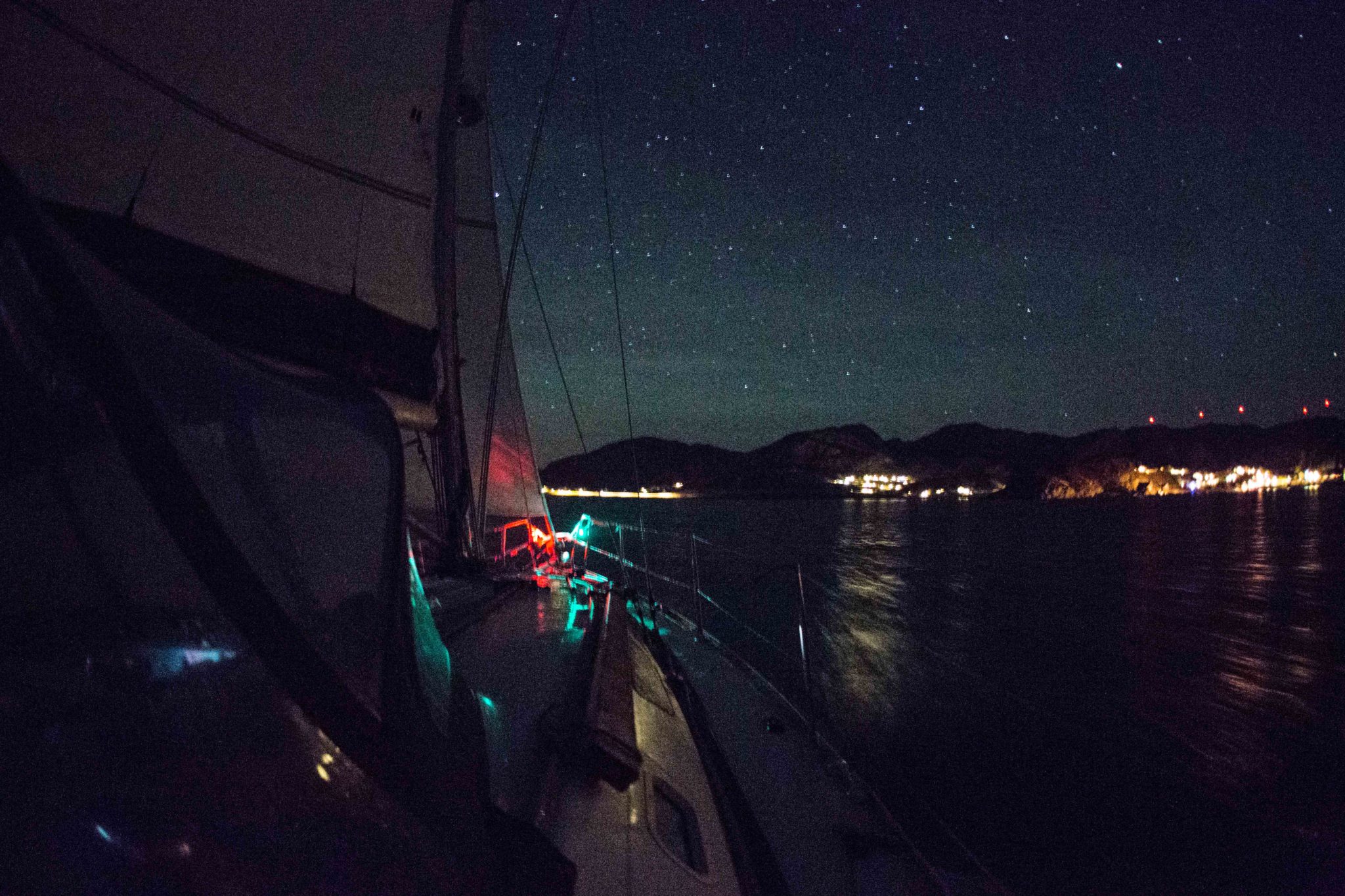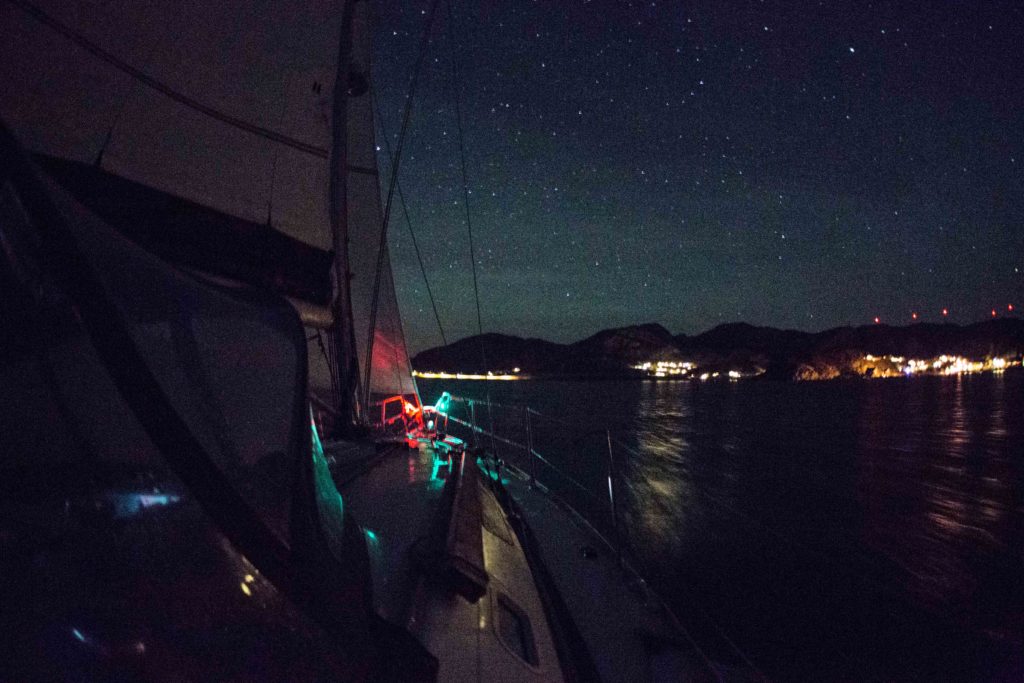 Navigating at night, central Norway. 
For five days now we have been pushing North, with only two stops to strech our legs. We see less and less of the sun, and just a day from now it will be gone altogheter. Green hills have been replaced by snow-covered mountains. We have adapted a 3 hours watch system, with time flying by as we navigate through narrow fjords and channels, with weather ranging from snow and gales, to calms with a clear sky, stars and the Northern lights dancing on the horizon.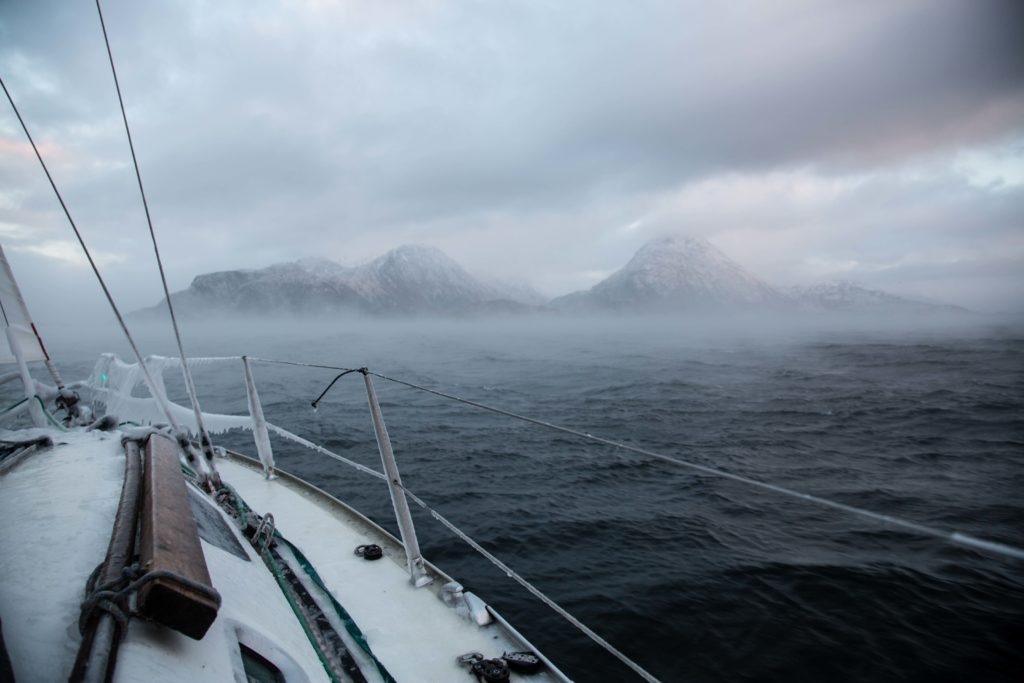 Approaching our current location, the island of Tomma. 
We are now at a small island by the name of Tomma about 2 days sailing from Tromsø, where we spend our first night in a port. The wind is howling outside, Barba is covered in snow and the temperature has dropped to 10 degrees Celsius below zero. Inside the diesel heater and excellent cooking skills are keeping morale high. We are all very excited by the rare opportunity to sail the fabled Norwegian coast winter time.
Andreas
PS: Follow our progress at https://barba.no/position/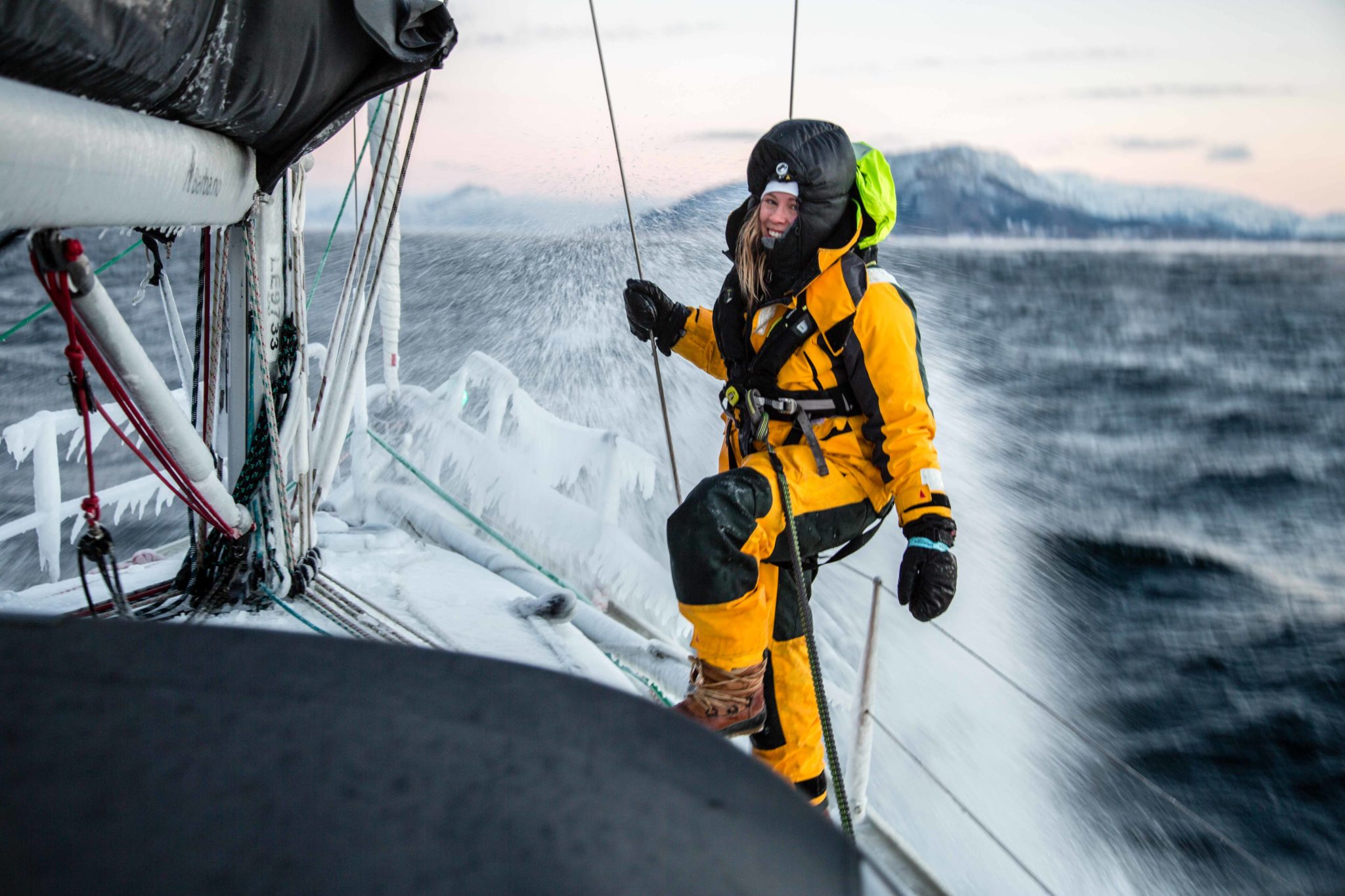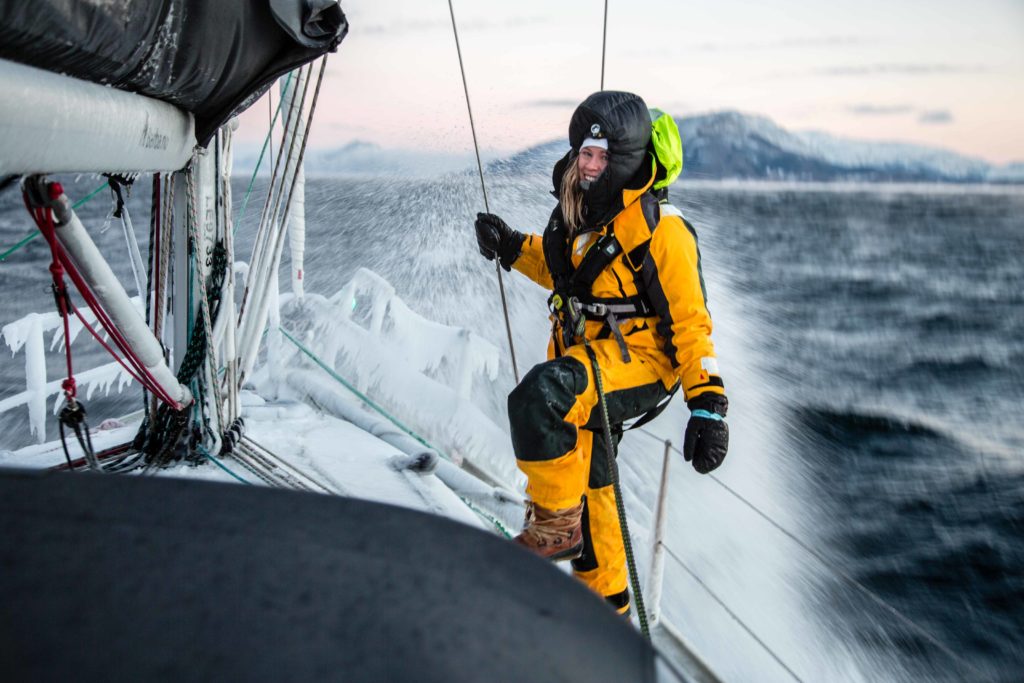 Rookie sailor Malin.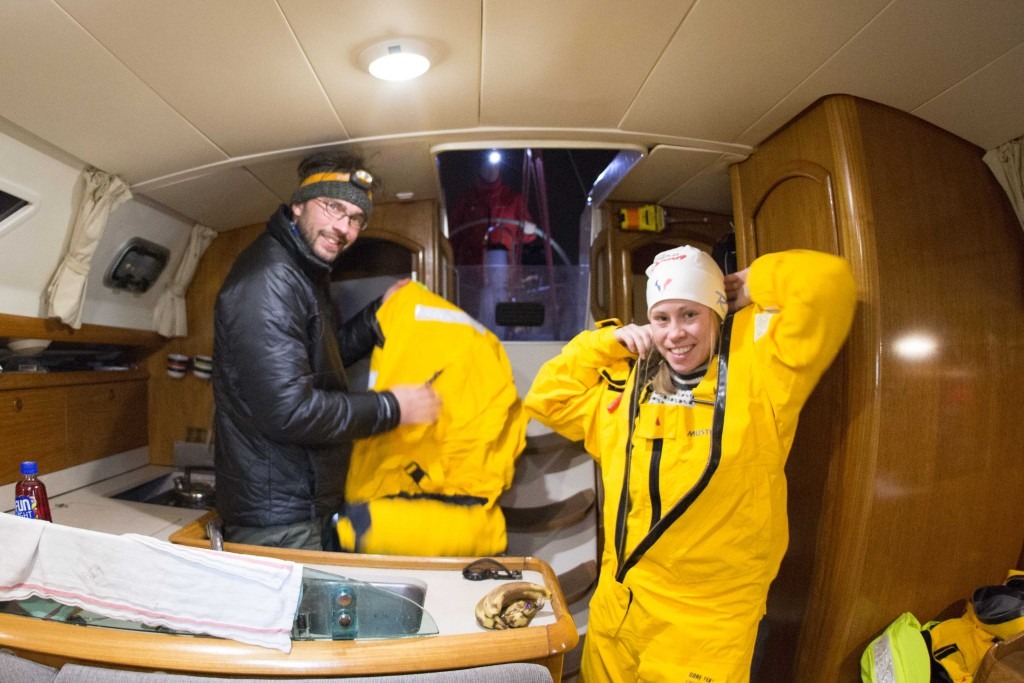 Jaap and Malin testing survival suits.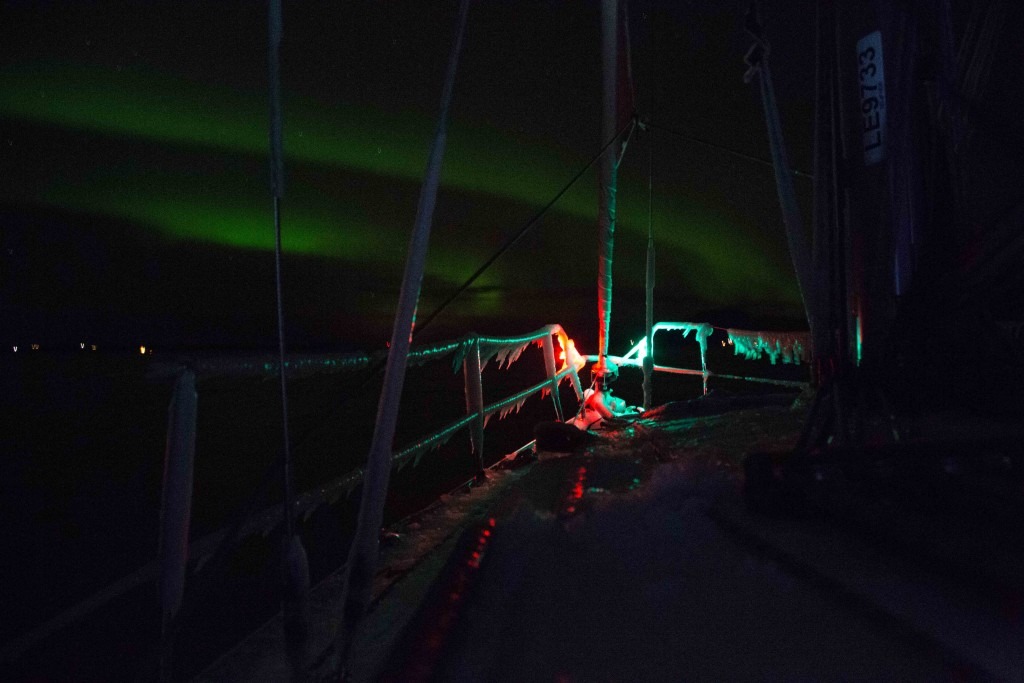 Night navigation with Northern lights on the horizon.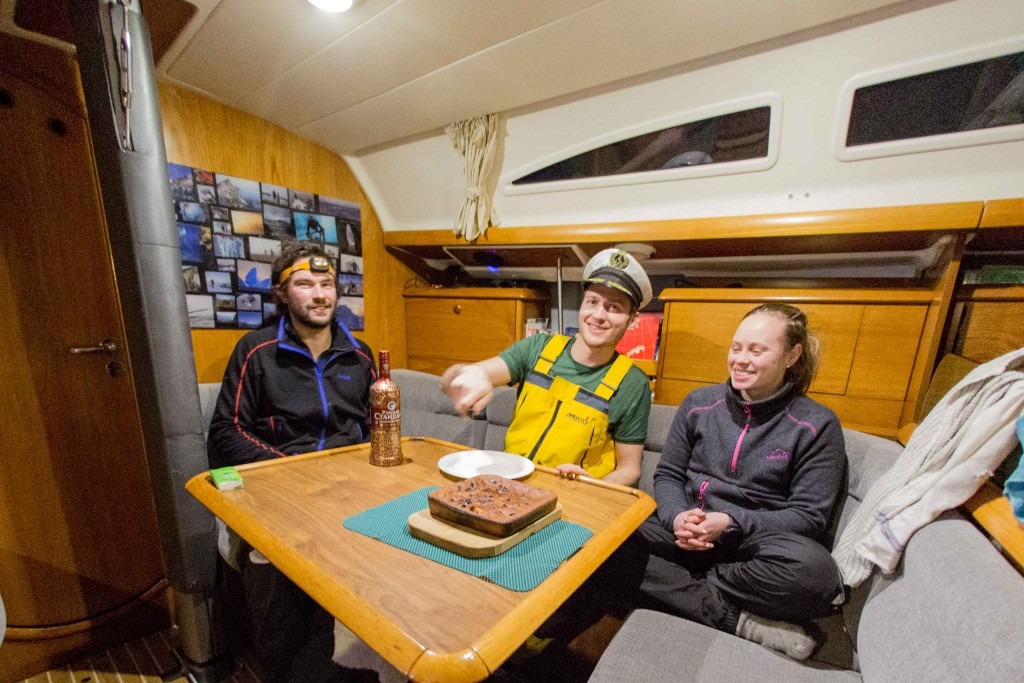 Birthday time! Photo by Rasmus Tornquist.  
Rasmus at the helm, departing Bergen, western Norway. 
Photos by Andreas