As the last blog post was sent, we were heading into the pack ice. In 2015, we got rather stuck there. This time, however a genius plan was made to ensure that history would not repeat itself. We prudently approached the pack ice, ensuring we had a clear exit into open waters at all times. The thing with pack ice is that it moves around like a gigantic jig saw puzzle, pushed around by current and wind – and you do not want to be in there as this process unfolds. To share these updates with you, we have sent some low resolution photos to our team on the mainland with our limited bandwidth.
Two sorties were done. On our first one, we hit dense sea ice at 80*32 minutes North NS were accompanied by multiple walrus that were relaxing on the floating pieces of frozen water. In addition to documenting our achievement, we also filled 5 bottles provided by our friends from Ocean Bottle with pristine Arctic water. These samples will be handed over to decision makers on the continent as a symbolic gift in the hope that they subsequently encourage the future protection of the North.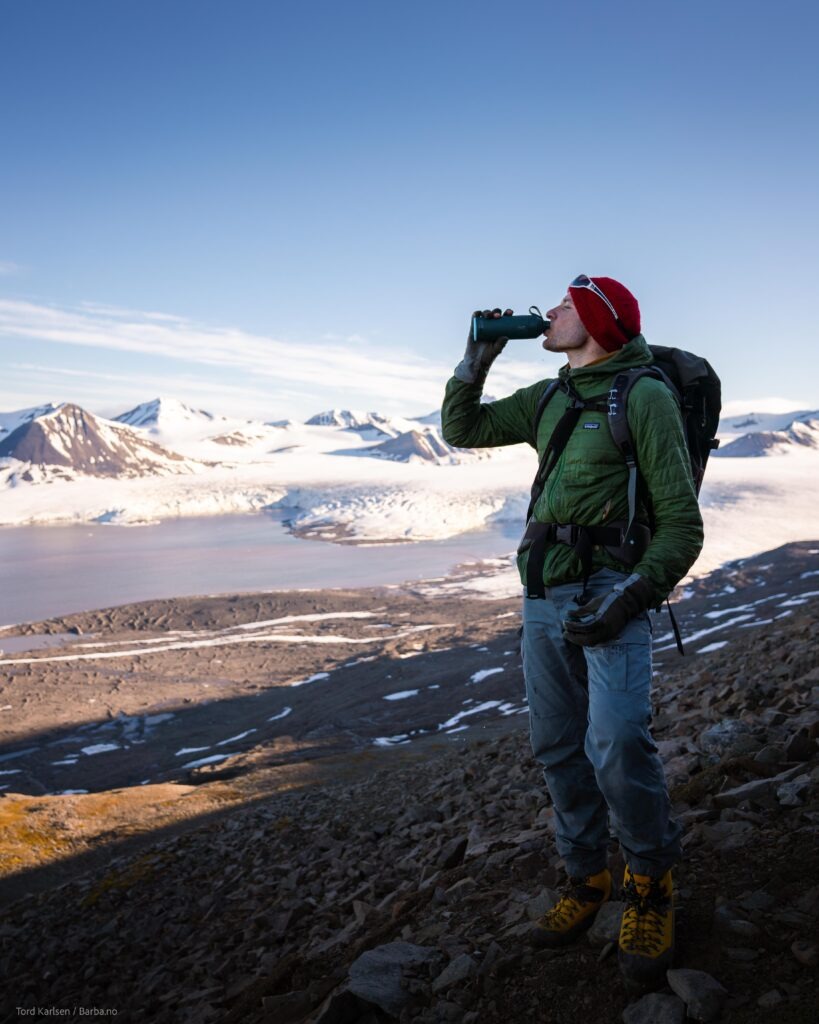 Drinking fresh glacier water on the mountains of Svalbard out of an Ocean Bottle. Photo by Tord Karlsen.
Our joyful undertaking was suddenly interrupted by fog, leading us to sail South and shelter in Claravågen from incoming 40 knots of wind. When the gale had passed, we pushed North once more. This time, we went to a more easterly aggregation of pack ice that we sighted around the most Northerly part of Svalbard Archipelago, Sjuøyane. With the latest ice forecast at our fingertips we successfully entered the outskirts of the pack ice, sailing alongside it until it was so dense that we could go no further. Longitude 80*44 minutes North. This time, our primary mission was to locate a polar bear in the pack ice. Scanning the ice with both thermal and gyrostabilized binoculars, we found something rather disturbing: not a polar bear, but a 200-liter white plastic barrel floating on the ice. In a way it was a good finding, as this remnant of human activity will help us tell the story of marine plastic pollution in the Arctic – of which there is a lot. The barrel was thoroughly documented, recovered, and is now strapped onto the stern of Barba. We plan on bringing it to mainland Norway so that we can use it as part of our educational program and storytelling when time comes.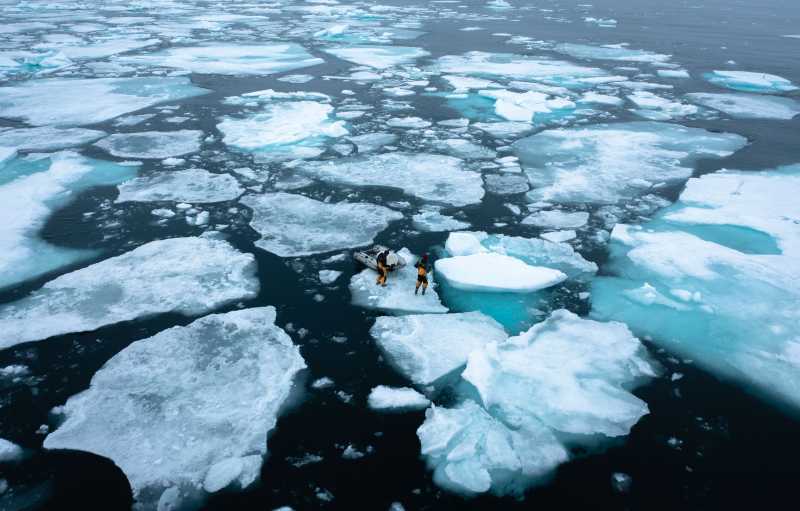 Recovering the plastic barrel on the sea ice. Photo by Tord Karlsen.
And then, almost with too little drama, we sailed south again to our natural harbor Claravågen. Once again, we had to wait for a gale to pass. I was relieved that we wrapped our work at the ice this time, as dense sea ice around the boat was my biggest fear throughout the Arctic Sense expedition. The ice chart indicated an ice-free Hinlopen (the North South passage dividing Svalbard in half). On Saturday we motored south into Hinlopen. Not before long, we encountered sea ice. First scattered, then a dense belt seemingly blocking us from going further south. The solution was to hoist Giulia up the mast, as well as launching the drone, to find the way through what we thought was the first and only barrier. The ice charts indicated no ice after all. Soon enough there was more ice, in large quantities. The ice guide book for Svalbard, indicated that the western part of Hinlopen would be more open, so a new route was made. We used the binoculars and drone intensively to find new ways to push south; and South we had to go, and returning was no longer a real alternative, which would leave us going against the current, and through ever shifting ice in our wake. 
If nothing else, we were trapped in a magical kingdom. Sea ice with walrus, floating in the current, glass calm waters and a mixture of sun and clear sky and light fog. New routes were continuously made on the chart plotter, as we came to closed waterways. The last one, named "the great escape" was the one that would set us free at last, after 8 hours of zigzagging through ice floes. Open water and blue skies greeted us. Although the crew was never in any real danger, we could have risked getting stuck and Barba could have been in more trouble. As for the ice charts, we had the latest valid one. The problem is that the Norwegian Meteorological Institute, only issues ice charts weekdays, assuming that polar explorers, as they do, rest during the weekend. What most likely happened is that the strong southerly wind that kept us hostage in our anchorage brought in pack ice from the eastern side of "Nordaustlandet" (the eastern island of Svalbard). We will know more when we get back to Svalbard. At the moment our contact with the outside world is limited through low bandwidth and expensive satellite communication.  
As for the Barba crew: we are enjoying internet free days. Walrus have replaced comedy shows, numerous polar bear encounters provide for action in different ways and forms. And morale is strong with the motley Barba crew. Two Norwegians, a Swede, and American, an Italian and a Turkish-German.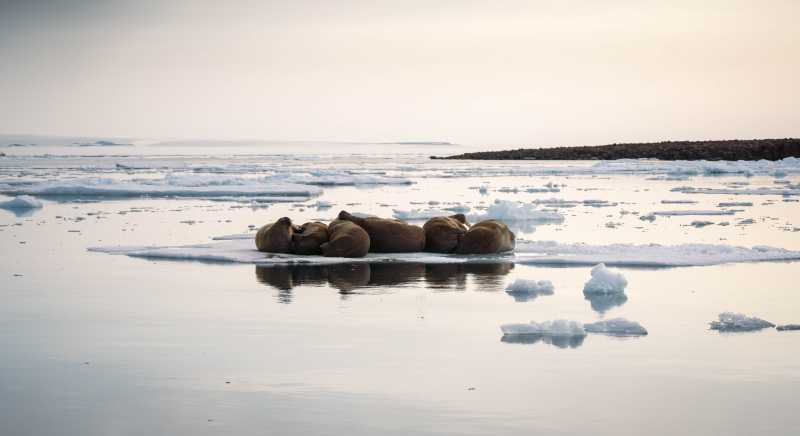 Walrus on the sea ice. Photo by Tord Karlsen.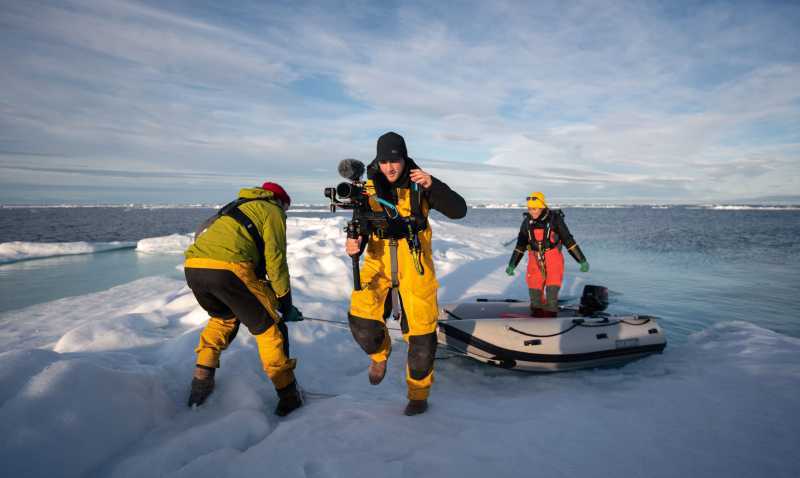 Andreas, Mark and Arzu landing with the small inflatable on the pack ice. Photo by Tord Karlsen.
We are currently sailing south towards the southern cape of Svalbard. When we reach our anchorage at Bellsund Wednesday around lunch time, we will have been in more or less continuous transit for close to 4 days.  
We plan on making it to Longyearbyen August 14th or 15th. More adventures and animal encounters of different sorts will follow; that we know. For now, we keep sailing. At the moment, through dense fog, with Arzucan currently at the helm, keeping a sharp eye out for ice. Close we are, but not quite there yet. 
Andreas 
August 10, 2021
Featured photo by Tord Karlsen