In her relentless but pleasant chase North, Barba detoured inland to the city of Trondheim over the weekend. This must have come as a surprise to those friends following the position tracker as Barba usually makes for places inhabited by as few humans as possible.
We really didn´t know what to expect in Trondheim, other than the fact that it´s the third largest city in Norway and a popular student town. In Barba terms, the town is a bit irrelevant. There are almost no chances of whale sightings here since it´s far from the open ocean. And there´s not much to tempt the mountaineers and paragliders among us, either, since it´s rather flat. It was not poor navigational skills, however, that lead us to this civilized place.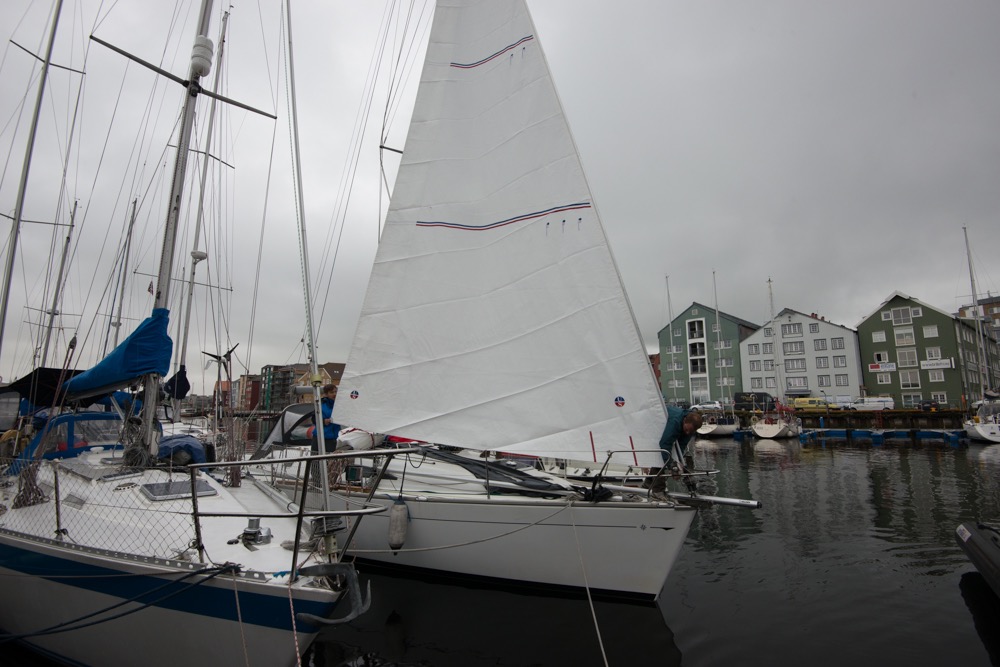 Jon and Ivan getting the job done. 
The purpose of the detour was for one of the gear upgrade milestones of the year – to collect and rig up new sails for Barba. The old ones had weathered many a gale and were ready for retirement. And as Barba is an extraordinary sailboat (at least to her crew), we would only be satisfied with the very best. That led us to Ullman Sails, a company that delivers sails from its sail loft in South Africa to the world´s leading offshore sailors. With great pride and humility, Barba now finds herself among the ranks of other great expedition vessels outfitted with Ullman sails.
For our readers who don´t know much about sails other than the fact that they propel the boat forward and can make her lean over a bit in the process (sometimes at bit too much), correct sail design is critical for our adventure business. Understandably, the sails need to be strong. But they also need to be easy to reef and manage when the wind picks up above comfort level, which it does every now and again.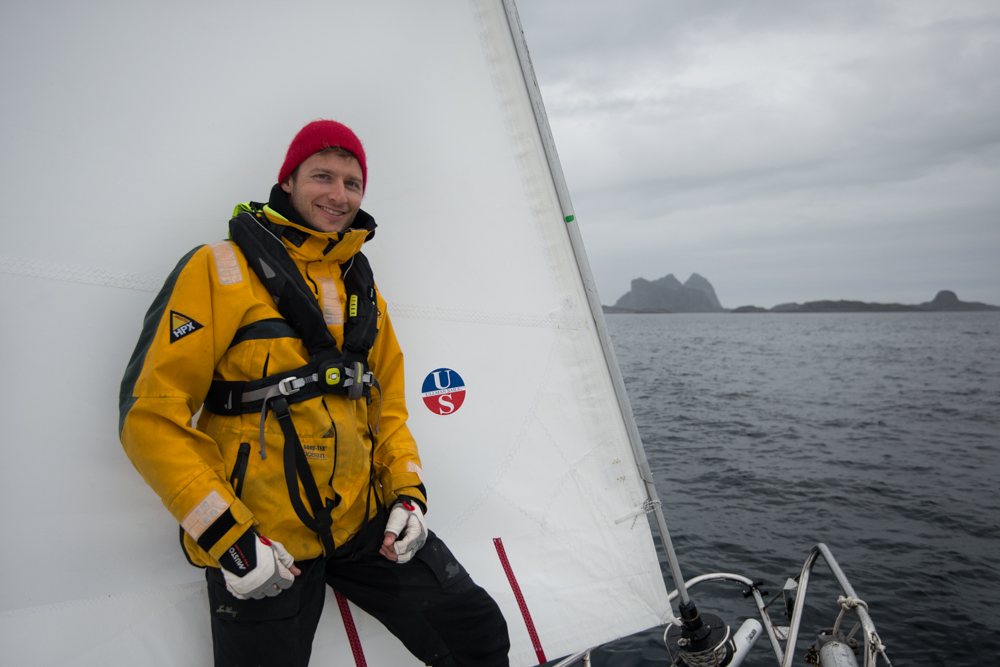 24 hours after departure Trondheim. Barba, sail, captain and ocean in perfect harmony. The island of Træna in the background. 
With new sails and strengthened self-confidence, Barba left port in Trondheim yesterday evening to continue the quest north. A big thank you to our sponsor, Ullman Sails, for supporting our adventure! And thanks, too, to their excellent local supplier, Maritimt Kompani, for making our stay in Trondheim a pleasant one.
Barba & Andreas
PS: Our intel about Trondheim has also dramatically increased. The town has thriving nightlife, remarkably pleasant inhabitants and also a beautiful river canal!
Pictures by Daniel Hug, Terragraphy.de.