Text: Andreas B. Heide Photo: Tord Karlsen
Snorkeling with dolphins under the midnight sun, multiple fin whale encounters, 30 knots in freezing cold winds and a drowned gas stove. The Svalbard crossing picked up where we left, following an adventurous sail up the Norwegian coast. The word Arctic became ever more descriptive as we pushed North, and at the end of our transit, we would see glacier ice and the barren hills of Svalbard.
Before setting sail, we had to spend a week in Tromsø to prepare for the task at hand. Not only to get the boat ready, but also to sort out the scientific gear. Giulia has spent more than a month getting the complex systems up and running. The highlights includes: a drone with a laser altimeter, which allows us to calculate the body condition of whales; a seafloor deployed hydrophone (underwater microphone) which will listen for whales during our 2 months stay in Svalbard; and finally the enigmatic PAMGuard system, a live whale listening and positioning array.
The PAMGuard system is what I am personally the most excited about, as it allows us to find more whales while we are out sailing. Towing an 80 meter long cable with 4 hydrophones, a bunch of wires, boxes (amplifiers) and a computer allows us to listen for whales in real time while sailing. Additionally, the PAMGuard system has different filters, which allows us to identify the whales and, to some extent, triangulate their position. I also feel it has some sorcery elements to it. The most exciting part of it all, would it work as it did in our whale dreams?
We sailed from Tromsø June 23rd, spending the night at anchor to be fresh and awake for what we knew was one of the riskier legs of the journey. Mainly due to open ocean, the cold, possible sea ice and limited prospects for a helicopter rescue, should the need arise. We were four in total. Aksel Engebråten Ørstavik, sailor and navigator, Tord Karlsen, photographer, Giulia Ercoletti, scientist, and then finally myself, Andreas, the Barba captain. Our dear friend and sail photographer Kurt Arrigo was prevented from joining due to travel restrictions, so we were one sailor short.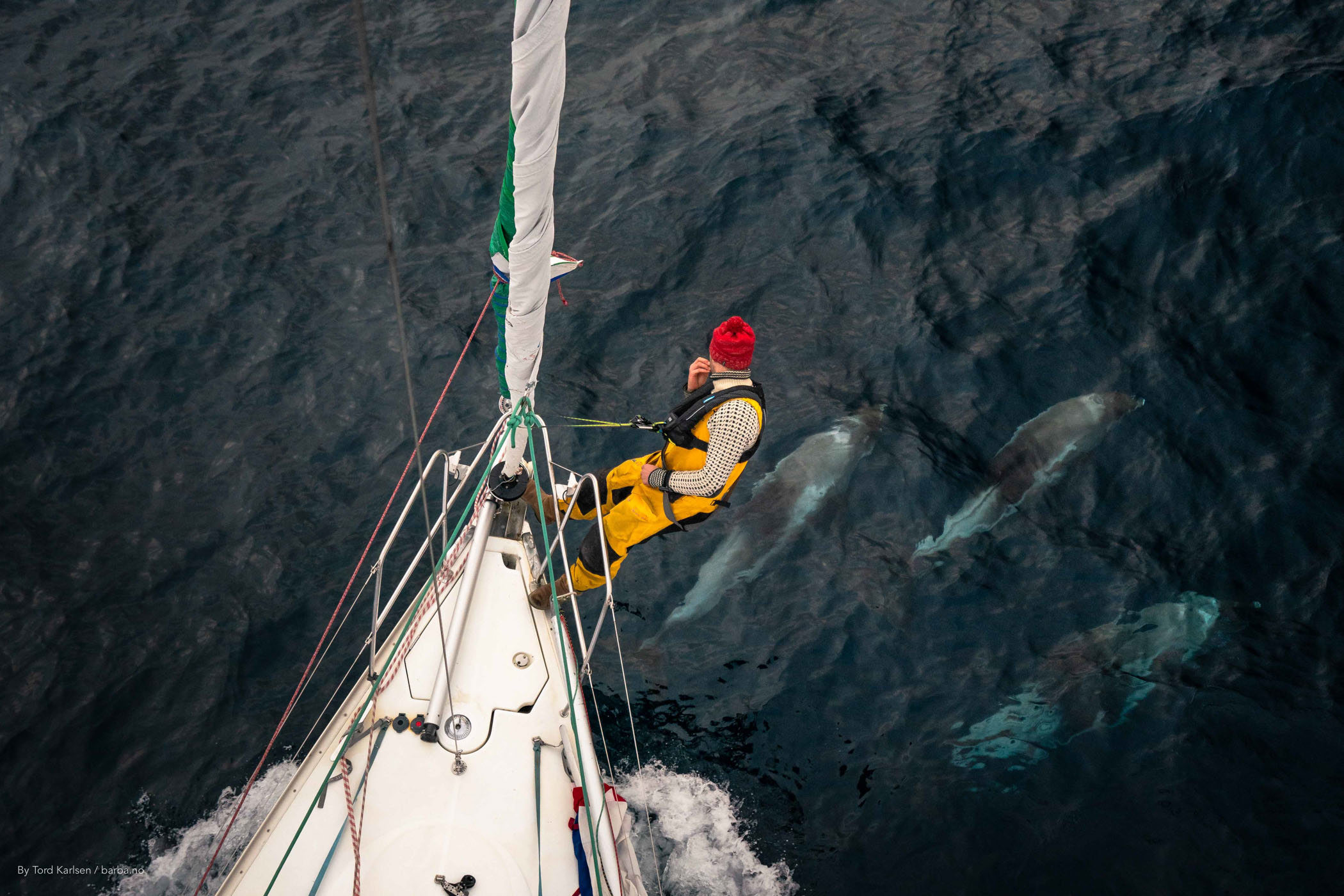 When we could see the mainland disappear in our wake, a pod of white beaked dolphins joined us, as if to wish us a good crossing. Being a bit superstitious, at least before ocean crossings, I took it as good sign.
It would not take long before the prophecy started to materialize. Half a day in, we could see whale blows on the horizon. Massive blows, that is. Four to five fin whales (the world's second largest whale), two humpback whales and hundreds of dolphins were all feeding in the same area.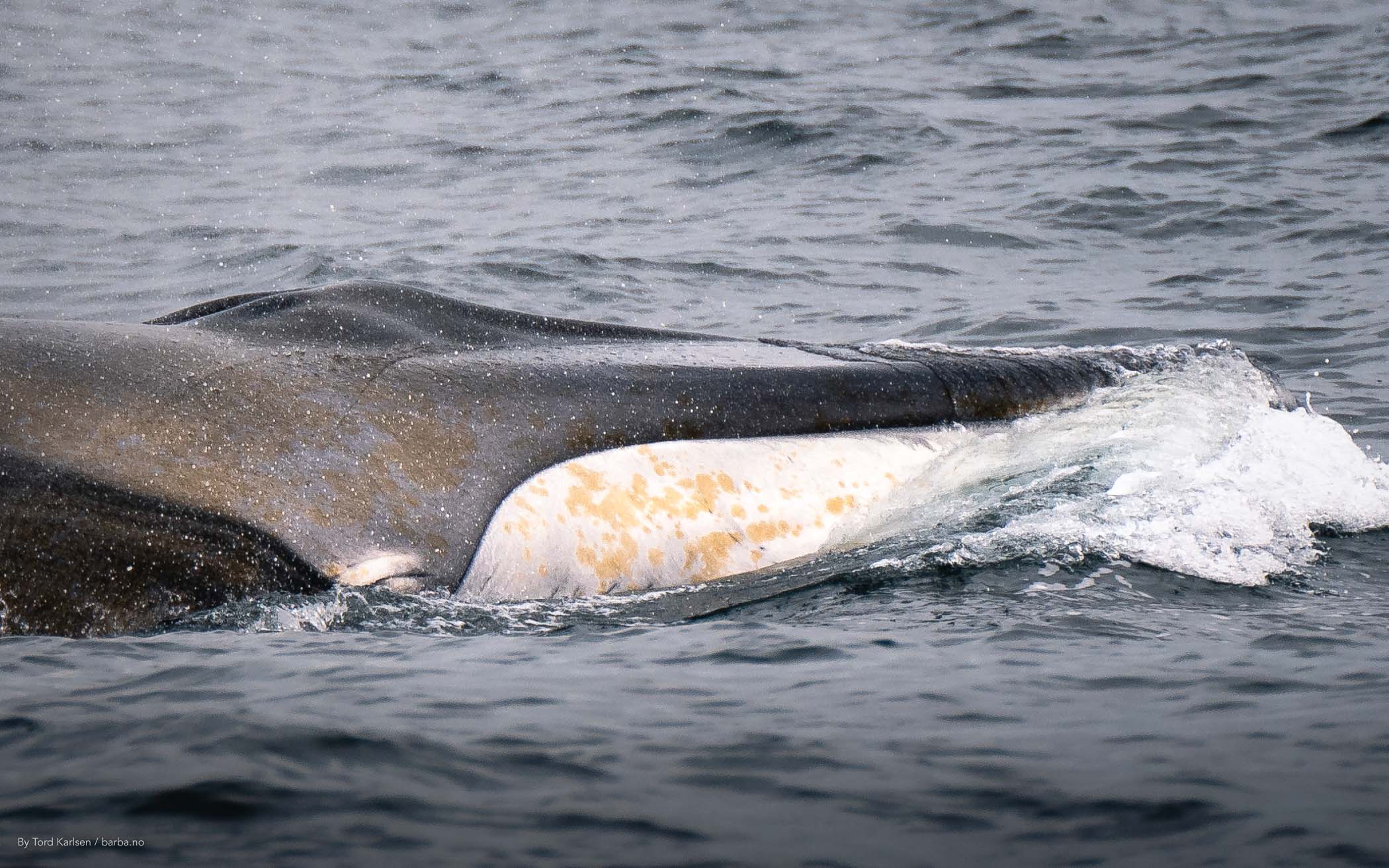 From a scientific perspective, we registered the encounter and photo-identified the baleen whales. We would additionally document the encounter with 360 cameras for the Nordplus educational program, for children aged 12-13 years in Nordic countries. Aksel had his first snorkeling session with ecstatic dolphins, but the larger whales proved more elusive, and the visibility was not the best. After 3 hours we continued our sail North. Never before have I encountered as many dolphins during a crossing. When the visibility improved, I took the underwater scooter for a spin, and was soon encircled by a about 15 dolphins or so. An encounter none of us are likely to forget anytime soon. Also, I never thought it would be possible to go snorkeling with dolphins under the midnight sun, in the Barents Sea!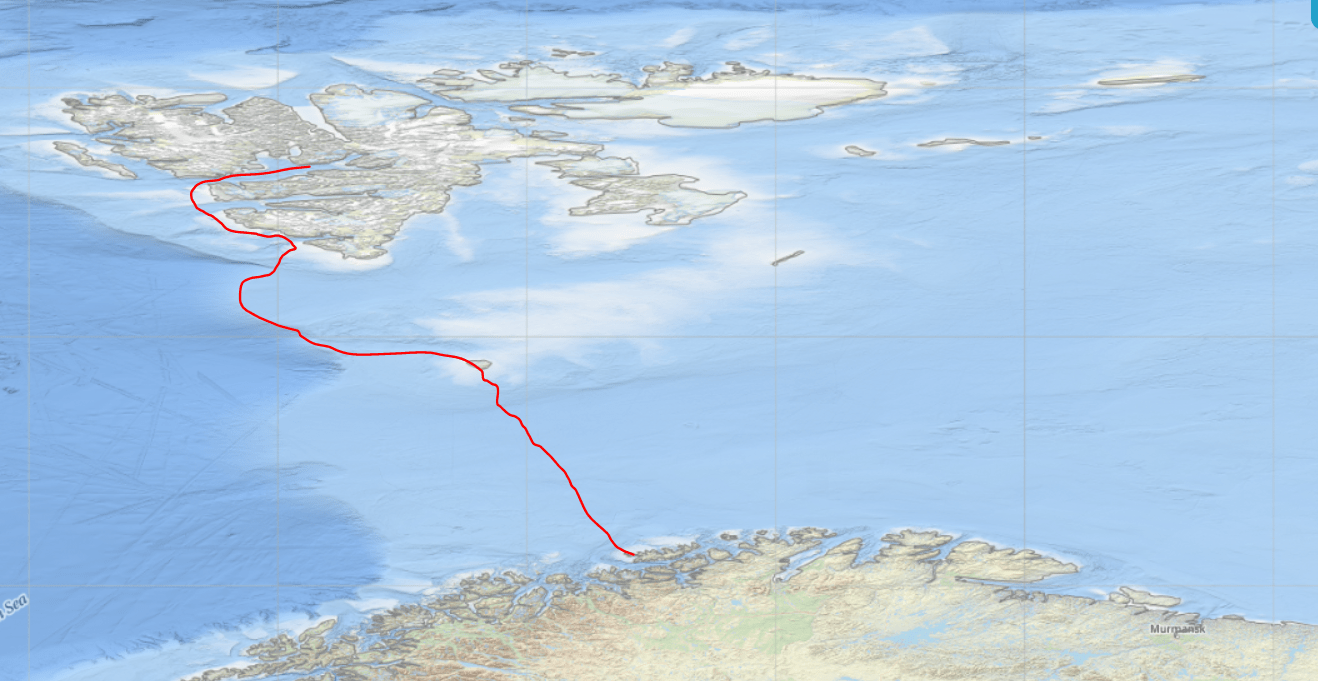 Half way, we made a quick stop at Bear Island in dense fog. The latest weather forecast from the sat phone indicated that it would be prudent to push on. And so we did. I wondered if some of you following the live tracker were puzzled by the route. Despite incoming North-easterly winds, we sailed east, on a less favorable course. This had a perfectly sensible explanation. Our scientific partner, Whale Wise, had set the course for us, in what was thought to be favorable areas for whale research. Their initial prediction had proven accurate so far. Starting on a easterly course for fin whales, we would next follow the shelf break to search for deep diving toothed whales, for which the PAMGuard system should be particularly useful.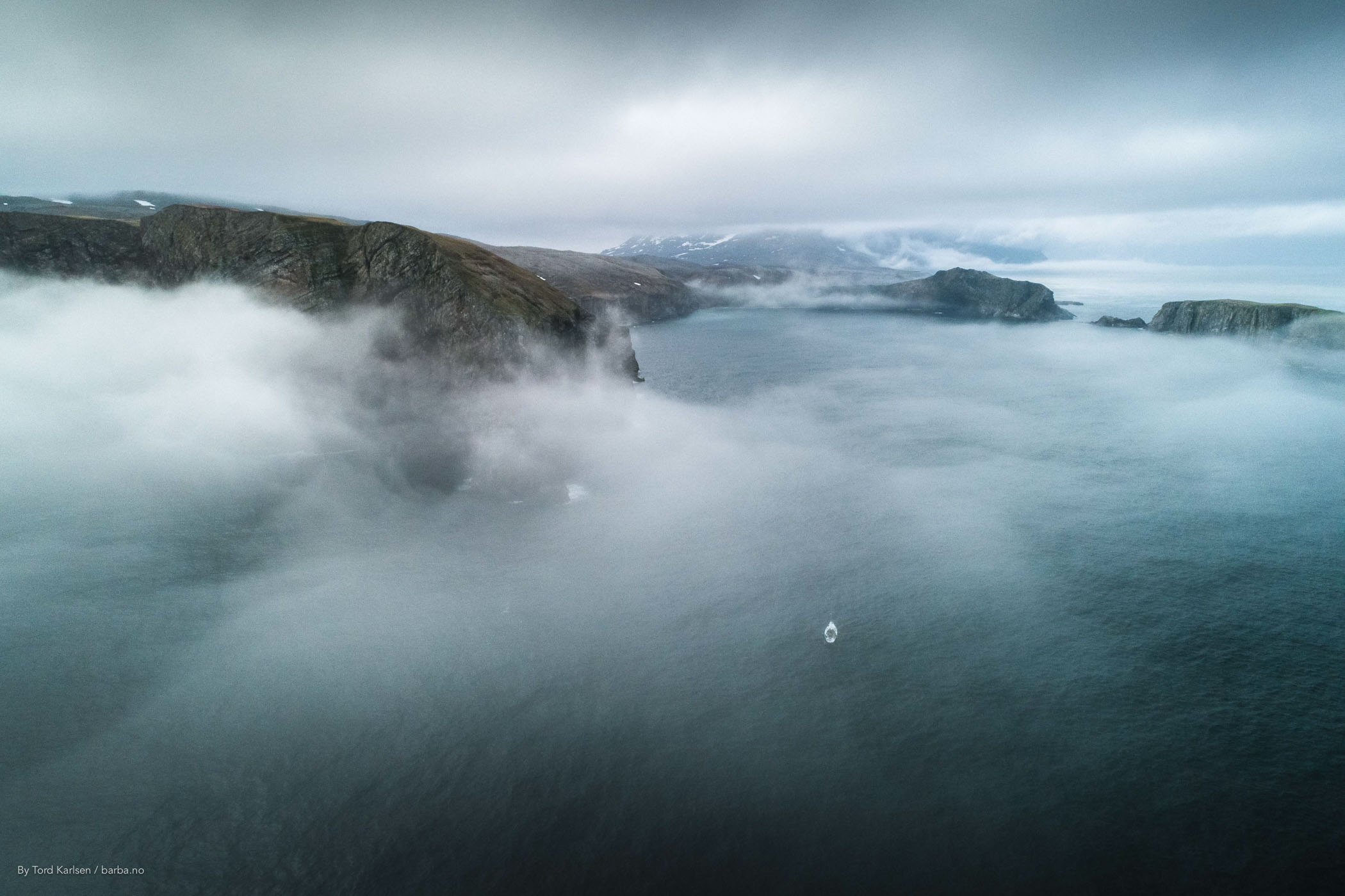 Shortly after Bear Island, we deployed the PAMGuard cable. Barba is many things, but not adapted for towing a rather thick cable. The cable came through the galley (kitchen) window, and was then connected to the computer system with an alert Giulia on watch. And then we sailed – initially with the Gennaker, then reef 2, 3 and finally 4, the minimum amount of sail the strong and cold winds from the North would allow for. Yet, we had good speed, averaging close to 8 knots, seeing the occasional 12 knots. Despite of a tarp covering the cable entry, we had some buckets of water spraying through the window, making it somewhat wet inside, and temporarily drowning the gas stove. But little did we care – the PAMGuard system was working. As we sailed, Giulia let us listen to sperm whale clicks, dolphin whistles and some unidentified sounds. The ocean was too upset to allow for any visual observations, but the same sperm whale clicks we heard outside Andenes would once again trigger our curiosity about the not-so-silent abyss.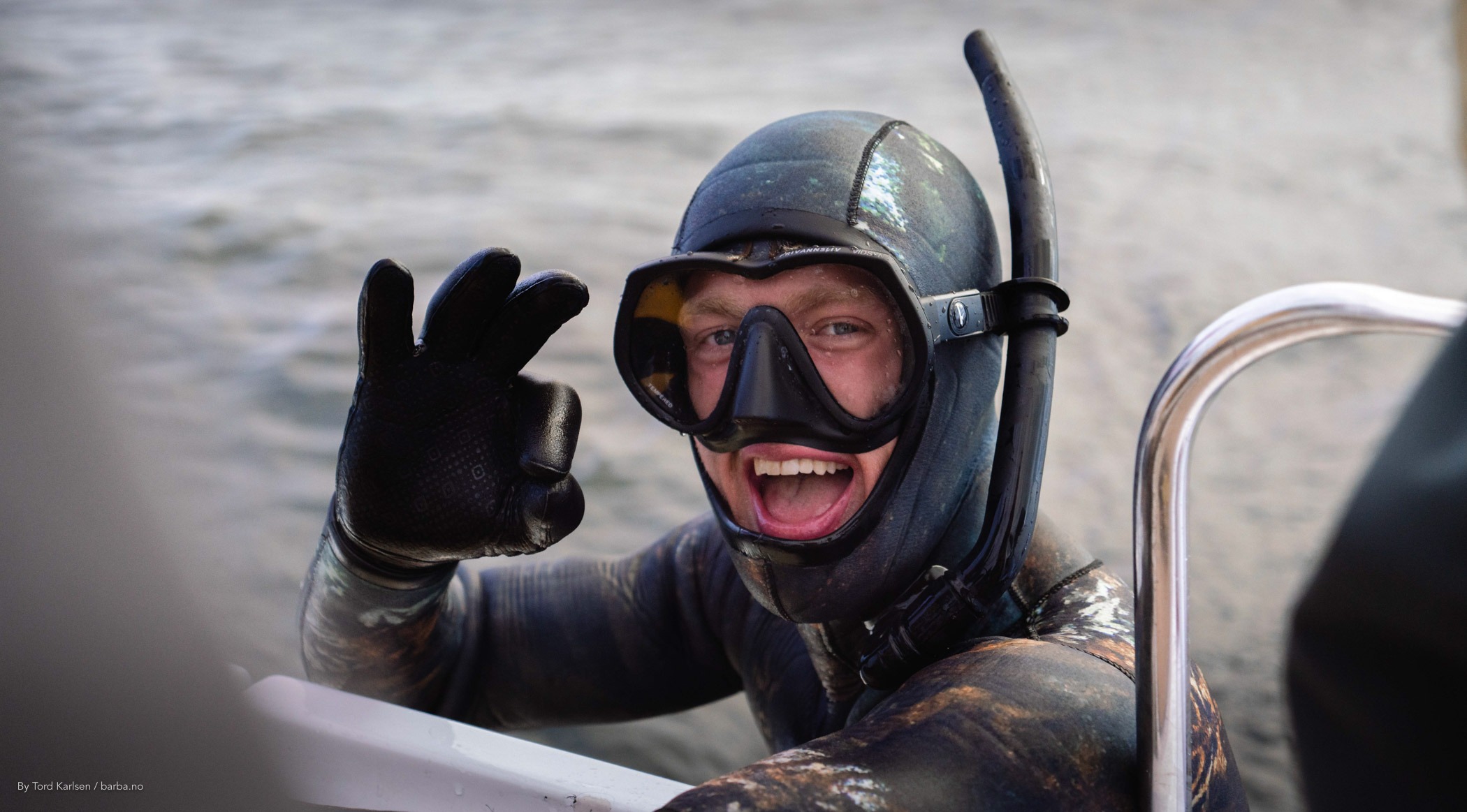 From a scientific perspective, we were able to collect data from a 130 nautical miles / 240 km long transect – quite the achievement by the motley Barba crew. It had been 6 years since I last sailed to Svalbard. The greeting was, as before, cold and wet. Strong winds prevented us from entering the Hornsund fjord, so we anchored at the entrance in perfectly calm waters, loaded the rifle for polar bear protection, and went to sleep. Once again we found ourselves in perfect Barba territory. A challenging area where we are put to the test. An area where nature dictates, and we respectfully adapt. And a land with the animals of my childhood dreams, blue whales, polar bears and walrus.
Andreas